best Periondtist in malibu
Meet Dr. Aalam and Dr. Krivitsky
The only two board-certified periodontists near the Malibu area, Dr. Alexandre Aalam and Dr. Alina Krivitsky offer cosmetic and therapeutic periodontal procedures at the CENTER for Advanced Periodontal & Implant Therapy. With unique expertise in gum disease treatment and dental implantology, our doctors provide innovative therapies to restore oral health and function while creating aesthetically pleasing, natural-looking smiles. Contact the CENTER today for a periodontal consultation with our specialists.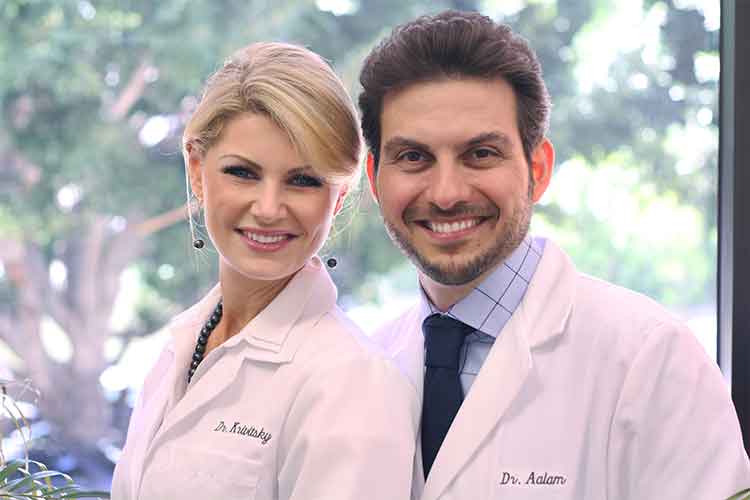 MEET #1 Periodontist in malibu , DR. AALAM AND DR. KRIVITSKY
Dr. Alexandre Aalam and Dr. Alina Krivitsky strive to provide expert patient care in a comfortable, relaxing environment. Understanding that untreated gum disease can lead to more serious conditions like heart disease and diabetes, Dr. Aalam and Dr. Krivitsky specialize in the diagnosis and treatment of periodontal disease and perform procedures to restore health and aesthetics after gum disease.
Pocket Reduction/Osseous Surgery
This is a type of procedure wherein removal of gum tissue affected by a periodontal disease is done. This procedure will help in restoring the health of the gum tissues. The periodontist will secure the re-attachment of the gum to the teeth. Results of this procedure will be removing bacteria that causes disease, prevention of the continuous growth of the disease, and most importantly, rejuvenate ones' health through the prevention of the possibility of developing much more serious health problems that can be caused by the periodontal disease.
Gum grafting is a procedure used for treating gums that are uneven or receding. A gum graft can be done by periodontists which is a cosmetically corrective treatment for the patient to have that beautiful smile he/she desires to have, even gums, and root protection that includes health longevity. This gum grafting is the right option for those who wish to correct the alignment of their gums and to show off a full, new, and wonderful smile unlike not undergoing gum graft procedure.
Periodontal Regeneration
Periodontal disease can really cause a lot of damage to the teeth, gums, and a persons' overall well-beng and health. Through advanced technology being offered at the Center for Advanced Periodontal and implant Therapy, these damages can be fixed and restored through a so called regenerating process that intends to slowly improve a patients' oral health. This therapy's purpose is to not only stop the continuous development of the periodontal disease, but also aims to regenerate and fix the resulting structure loss given by the disease.
When patients experience issues like bone loss and tissue damage because of a periodontal disease, doctors Krivitsky and Alaam might recommend a regenerating process to restore the damaged tissue and bone. These conventional procedures are great ways to clean periodontal pockets and the damaged root surface, including the restoration of the bone structure's form in the mouth.
APRF is now being offered in the Center for Advanced Periodontal & Implant Therapy which can be applied in many oral and periodontal surgery procedures. This is a process wherein it involves the utilization of a patient's blood that can improve soft and hard tissue grafting procedures. This doesn't just help in reducing the healing times of a process but It also improves the overall experience of a patient and decreases any kind of anxiety and discomfort. It can also increase the chances of a successful surgical procedure. Prior to this, it will remove the rejection to any kind of medication and prevent the possibilities of infections. Advanced Platelet Rich Fibrin is also scientifically certified and proven to increase and improve healing abilities.
After a process of a so called centrifugation, its platelets will show growth factors which includes the epithelial growth factors, vascular-endothelial growth factors, and transform growth factors. Each of the mentioned factors have certain roles to play in the new forming of blood vessels and the hard and soft tissue healing.
Periodontal Plastic Procedures
Gummy Smile Treatment
Most are familiar with the term gummy teeth or a gummy smile, this term is caused by a condition wherein the upper teeth appears to be too short because of excessive gum tissues that cover the teeth. This can truly affect a person's confidence. Thanks to the advanced treatments in "The Center for Advanced Periodontal & Implant Therapy", periodontists has ways to solve your gummy smile issue. This can be in ways such as aesthetic crown lengthening, lip repositioning (can be surgical or non-surgical), and also lip enhancements. The procedure that would be done depends on what the patient really needs to undergo, or which treatment is suitable for his/her gummy smile problem. Count on Dr. Krivitsky and Dr. Alaam to bring back your confidence with a brand new smile.
Gum Depigmentation and Bleaching
When you imagine a picture perfect smile, it would always be about having healthy pearly white teeth. Having healthy gums is important too. It is essential because it is one of the most important part that can complete your beautiful smile. Healthy gums have a natural pinkish color that's fits right around the teeth withouth the support of periodontal pockets and does not cover the teeth with too much gums that had the tendency to create a so called gummy smile and of course it shouldn't be deteriorated. These cases are being caused/was caused by abnormally high melanin resulting to dark spots or patches to appear on the gums.
Gum Depigmentation or also known as gum bleaching is a treatment or cosmetic periodontal procedure done and used to remove the dark spots seen on the gums. This gum lightening procedure doesn't utilize any type of lightening agent or bleach to lighten your gums that one can think of. This form of treatment allows periodontists to have higher control and accuracy of the dark spots removal resulting to a more natural and healthy looking gums in appearance. It would look as if no surgery was done to it. The microdermabrasion peels the surface of the epithelium and melanocytes away to reveal the underlying connecting tissue that is made to induce firmer and pink keratinized tissues.
This is a cutting edge technique also used for improving a gummy smile. This periodontal technique removes the excess gum tissues to realign the gum line and reshape the gum's outline which will result to exposing more teeth rather than the gums. This can now create an attractive, fuller-looking smile. This aesthetic crown lengthening procedure can also be done for restoration purposes of periodontalprocedures and for the preparation of dental crowns.
Other Services
The Center for Advanced Periodontal & Implant Therapy has great board-certified periodontists that can assure patients of quality service and wonderful results. The variety of reconstructive and therapeutic periodontal services that they offer, gives back the patients' confidence by rejuvenating their smiles that is considered as an asset. Their procedures include, treatment for gummy smiles, functional crown lengthening and osseous, surgery treatments, advanced platelet rich fibrin, gum grafts, oral cancer examinations, wisdom tooth removal, and dry socket prevention, rejuvagum lifts, dental implants, and so much more.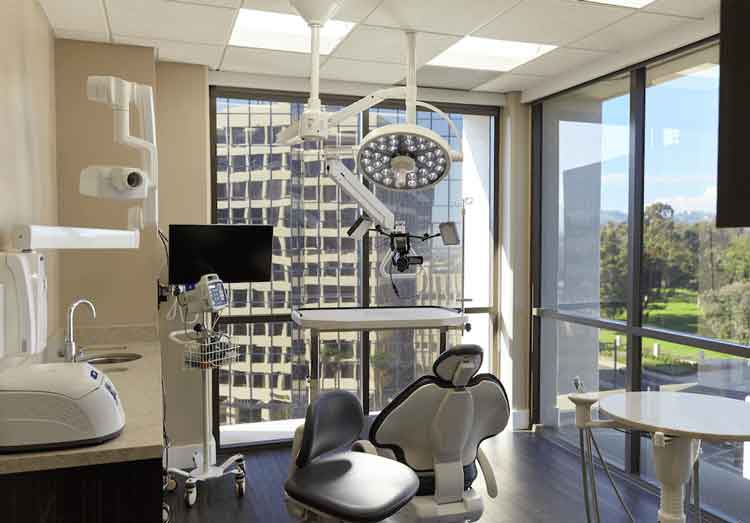 WHY IS ORAL HYGIENE SO IMPORTANT?
Oral hygiene is not only a crucial part of maintaining optimal oral health, but is also necessary for ensuring your overall health. Periodontal disease has been linked to some serious health conditions including heart disease, diabetes, Alzheimer's, kidney disease and cancer. Taking care of your teeth and gums isn't just about preventing cavities or maintaining a picture perfect smile, but rather protecting yourself against serious health risks that can develop down line. A proper at-home oral health care routine is the most important step in preventing the development of periodontal disease. This includes flossing daily, brushing at least twice a day, maintaining a healthy diet that consists of the right fruits, vegetables and proteins that have been shown to reduce inflammation associated with periodontal disease, and regularly scheduled cleanings and checkups with your trusted Marina Del Rey periodontist to ensure you are properly caring for your teeth and gums.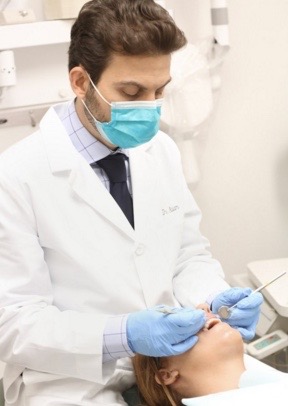 WHAT OUR periodontist patients in malibu ARE SAYING…
Dr. Krivitsky, thank you for a job well done. I was well informed about the procedure plus the work performed went as planned. I followed your steps towards recovery and the outcome was perfect. I would certainly prefer your services again.
Dr. Aalam explained everything that was happening and he answered all of my questions. I would definitely recommend Dr. Aalam to anyone needing a periodontist.
Cannot begin to say enough good things about Dr. Aalam, Linda, and the rest of the staff at this office.
Would definitely 10/10 recommend Dr. Aalam for anyone seeking gum recession treatments. On top of the great location and facilities here, the procedure Dr. Aalam performed had great results on my case!
Before And After Photos
Take a look at this incredible before-and-after photo of a patient who underwent cosmetic gum depigmentation with Dr. Aalam and Dr. Krivitsky.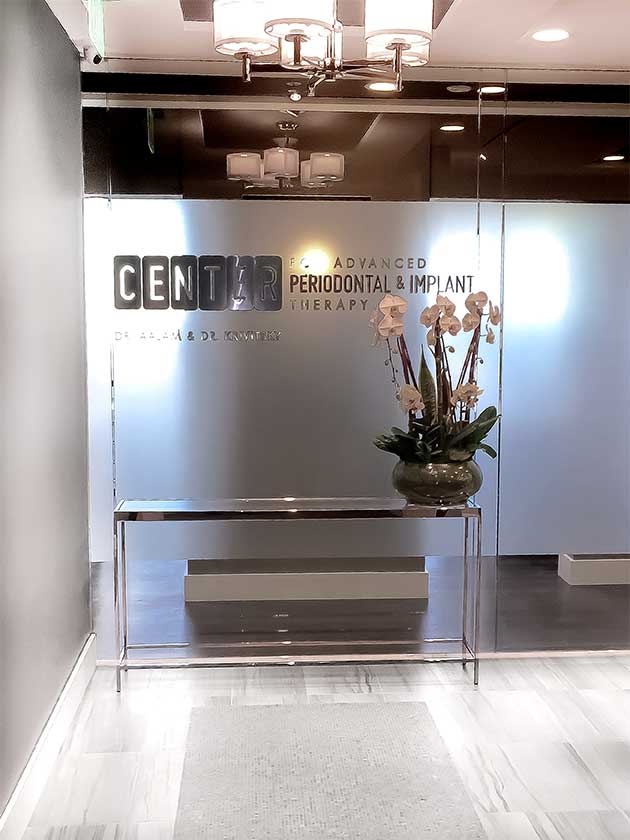 VISIT THE CENTER FOR ADVANCED PERIODONTAL & IMPLANT THERAPY
Virtual Brentwood Office Tour
GET TO KNOW OUR LA OFFICE!
GENTLE, AFFORDABLE & PAINLESS PERIODONTAL CARE in Los Angeles