Cavitation & Ozone Therapy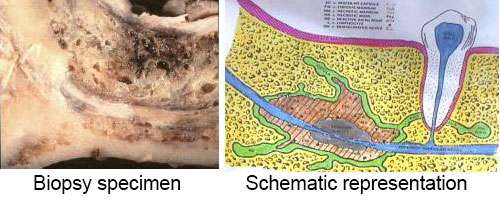 encourage bone regeneration with Cavitation & Ozone Therapy
A jawbone cavitation is a hole or hollowed out area in the jawbone that forms when there is a lack of blood supply being circulated to a specific area of the bone. The term cavitation describes the development of these holes that form as a result of a disease process called osteonecrosis, which limits adequate blood supply from reaching the jawbone. Over time, the limited blood supply to the bone and bone marrow will ultimately result in death of bone cells and tissue due to decreased blood flow. These holes are very difficult to identify with visual inspection and do not clearly appear in X-rays.
Causes
Decreased blood flow and subsequent development of holes in the jaw can be caused by a number of factors. Physical trauma to the mouth caused by injury, aggressive dental procedures, teeth grinding or excessive drilling are some examples of physical trauma that can disrupt the bone tissue and initiate cavitation formation. Other factors include toxic trauma from chemical exposure, substance use and other toxins. Cavitations are also commonly found in the section of the jaw where wisdom teeth were extracted.
Diagnosis 
It is important to see a periodontist who can correctly diagnose and treat your cavitations and osteonecrosis. Using a panoramic 2D or 3D X-ray, your skilled Brentwood periodontist will take an X-ray of the upper and lower jaw, teeth and sinuses. Although holes do not always appear in the image making it difficult to identify early stages of osteonecrosis, this X-ray used in conjunction with your CBCT Scan will still provide a more accurate image to detect lesions.
HOw to treat cavitations?
To treat the cavitations, Dr. Aalam and Dr. Krivitsky will perform a procedure utilizing Ozone (O3) Therapy. They will remove the unhealthy bone and dead bone tissue, and thoroughly clean the hole, utilizing Medical O3 to the disinfect the area and remove disease causing bacteria. The purpose of this treatment is to encourage bone regeneration and stimulate the immune system. Complete restoration however depends on ulterior factors including a patient's ability to heal, and successfully eliminating recurring risk factors. Only a minority of periodontists are trained and capable of diagnosing and effectively treating this condition. It is important to work with a skilled and trusted periodontist in Los Angeles, like Dr. Aalam and Dr. Krivitsky, who are well-versed and experienced in treating such conditions.

Virtual Brentwood Office Tour
GET TO KNOW OUR LA OFFICE!
GENTLE, AFFORDABLE & PAINLESS PERIODONTAL CARE in Los Angeles