Dentures vs. Implants Which Is The Better Option?
The decision to replace your missing teeth is an important one. However, it's a hard decision for many people to decide on how to fix the situation. Still, it is vital to replace your missing teeth as soon as possible so you can get back to the everyday life of eating the foods you love, restoring your self-esteem, and preventing long-term health complications.
If you want to stop hiding your smile, then your tooth replacement options consist of dentures, implant-retained dentures, or dental implants, but what is the best option for you? Keep reading and find out about these three choices and what they offer in order to make an informed decision.
If you are thinking about getting dentures or implants to replace your missing teeth or implants to replace your existing dentures, then it is crucial to know what is best for YOU and YOUR needs.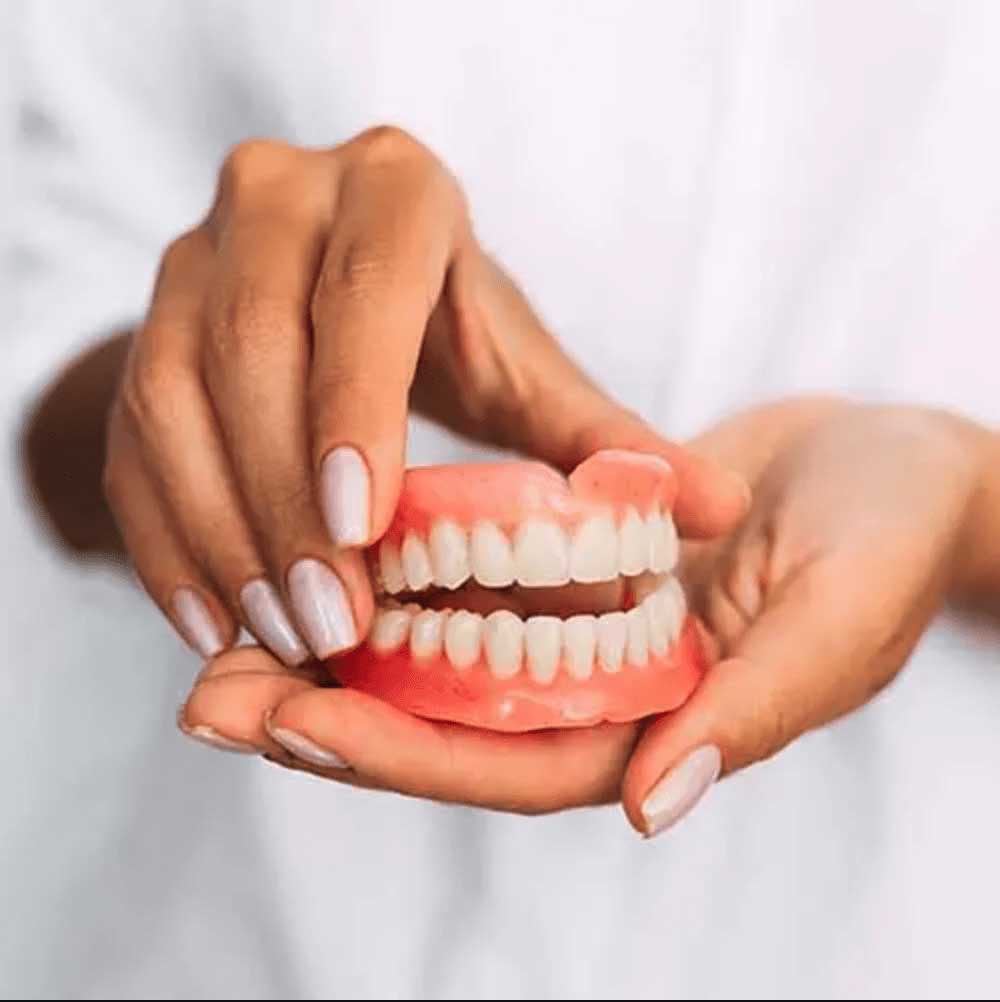 Traditional dentures shown above
What are your denture options?
Many denture options are available, including removable full dentures and partial dentures to more advanced implant-supported snap-on or over-dentures, which are popular tooth replacement options, and each has its pros and cons.
Traditional dentures are removable appliances with a pink gum-colored acrylic base that support the denture teeth and come in full or partial styles. Complete dentures replace all the teeth in the upper or lower jaw, while partial replacements fill in gaps between healthy teeth and attach to crowns or clamped on without surgery.
Outside of being less expensive and your unique situation, there are some drawbacks to dentures to consider before deciding how to replace your missing teeth.
Some disadvantages of dentures include:
Dentures are much bigger than the teeth they replace, making them uncomfortable and can change the way you speak.

Require adhesives and creams that taste terrible and make it messy, tedious, and costly.

Dentures can lead to loss and deterioration of the jawbone and facial structure.

You need to chew much longer because the bite force is significantly reduced.

The teeth and gum material don't look as natural as implants or real teeth.

They must be removed every night and cleaned regularly.

Dentures may slip around, causing discomfort when eating or speaking.

You can't eat some foods due to a diminished chewing capacity.

Dentures don't last forever and need to be replaced every 5-7 years.

There is an increased risk of gum disease because the gums get trapped in food that isn't chewed enough by dentures.

Partial dentures weaken the adjacent healthy teeth, which provides stability for the dentures.
Dentures are a popular solution and can work well for patients with unhealthy jaws and insufficient bone structure who may not be good candidates for dental implants.
EXPERT TIP From Our Implant Periodontist: If you've been told you have insufficient bone and are not a candidate for dental implants, contact us for an evaluation. There are many options to replace your bone or different types of implants that may work for you even if you've been told no in the past.
The good news is dentures are no longer the only option. Thanks to modern dental implants, there are many more options for replacing lost teeth and improving your oral health while avoiding the downsides of traditional dentures.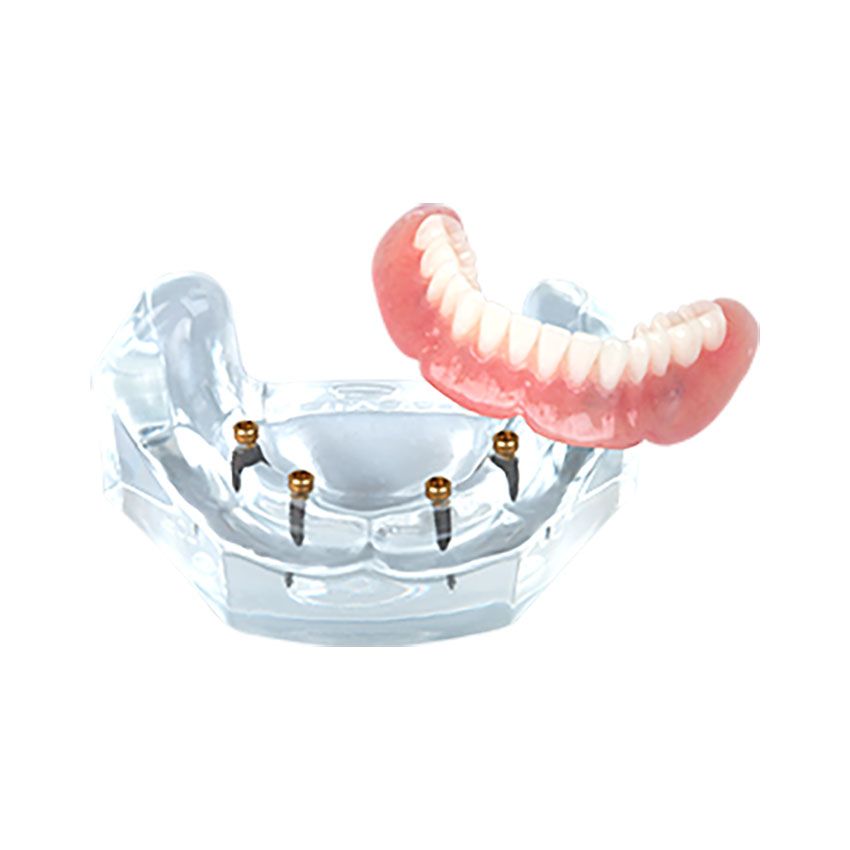 Implant-supported overdenture
What are the best denture alternatives?
There are several options for dental implants, such as removable or non-removable implants, depending on your specific needs and budget. Dental implants look and function like real teeth and feel more comfortable than dentures without all the drawbacks.
Removable implant overdentures or snap-on dentures
In the past, dentures have been used as a solution for missing teeth. However, dentures are attached to your gums and can slip, move around, and not fit properly. In comparison, an overdenture or snap-on denture is much more secure as they connect via a male-female snap assembly anchored by implants.
Overdentures are an important step up from dentures because they fit better, don't slip or need adhesives, and are easy to clean. Additionally, overdentures can help support the facial structure when bone has been lost. They are also less expensive than a permanently fixed bridge or full arch implant. If you have extensive bone loss in your jaw and wish to stabilize your dentures, overdentures may be a good option.
A snap-on denture does require routine care and maintenance like a traditional denture. You will need to remove it at night, soak in a cleaning solution before placing back into your mouth the next day because you're still using an appliance that covers the roof of your mouth, which may also affect how you talk.
Implant-supported dentures are much more successful than traditional dentures because they attach to implant anchors for that secure connection with your jaw. You still don't get the full advantages of fixed bridge implants for things like eating, convenience, comfort, longevity, and confidence.
Some advantages of implant overdentures include:
Overdentures provide a more stable solution than traditional dentures because they attach to implant anchors for a secure connection with your jaw.

It prevents bone from deteriorating and helps preserve your facial structure.

Restores the ability to eat more foods you love.

Improve overall appearance and look like real teeth.

Prevents embarrassing dislodgment.

It makes speech feel and sound more natural.

They last longer than dentures.

They cost less over time compared to regular dentures.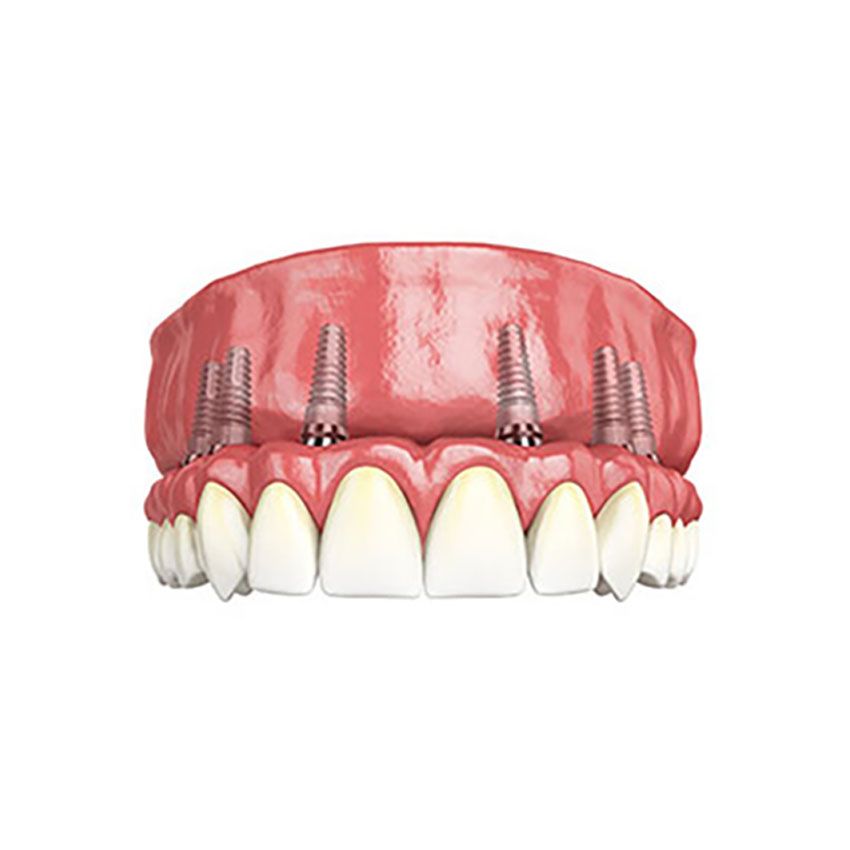 All-On-6 Fixed bridge implant model
Non-removable Full-arch Fixed Dental Implant Bridges
If you need to replace a full arch of teeth and want the most permanent and trusted solution, then full arch dental implants are a good choice for you. They're designed to fit comfortably like natural teeth and last forever because they are permanently anchored in place with dental implants and use the best materials to replicate your natural teeth look and function.
Fixed implant full arch replacement uses between four and eight implants per arch, commonly referred to as All-On4, All-On-6, or All-On-X.
Our implant bridges are made from biocompatible zirconia porcelain to produce natural-looking results that look and function like your original teeth and are seen as the gold standard of teeth replacement options.
A fixed bridge offers several advantages over removable dentures. A fixed bridge will mimic natural teeth and can last for more than 25 years if properly cared for.
Zirconia is an incredibly durable material that doesn't have the porose micropores of acrylic materials used in dentures. That makes it more compatible with your body and more able to withstand daily wear-and-tear than any other teeth replacement implant on the market!
We can support an entire arch of teeth with just a few implants because it distributes the forces of biting and chewing amongst multiple implants. A full arch replacement is locked onto the implants so that only the dentist can remove them, but you will continue to brush your teeth like normal and clean underneath the bridge to keep them clean and healthy.
The benefits of a fixed zirconia implant bridge:
There is no staining from things like coffee, tea, wine, or berries.

Natural qualities of translucency and depth like real teeth.

There are no micropores in the teeth that accumulate bacteria and decay.

Simple procedures, such as brushing, flossing, and regular visits to the dentist's office, are sufficient.

Made from durable materials like Titanium and Zirconia to avoid chipping or breaking.

No more dentures or unstable teeth.

The closest prosthetic option to replicating the look, feel, and function of natural teeth.
There are situations where a solid fixed bridge may not be ideal for your situation. For example, you typically need more bone and more implants and depending on your case; you may require bone grafting or other treatments to prepare you for a fixed bridge.
So which dental implant option should you choose?
If you are looking for a more permanent teeth replacement option, then fixed zirconia implant bridges are the best choice if you are looking for an alternative to dentures. They offer better natural qualities than dentures and can last a lifetime with proper care.
If you're ready to learn about what steps we take during our implant process, give us a call at (424) 407-3384 to learn more about this procedure!
At the Center for Advanced Periodontal & Implant Therapy, we have been providing quality periodontal dental services in Los Angeles for nearly 20 years, so we know what it takes to ensure that your smile is healthy and beautiful.
Our staff of professionals and dual board-certified periodontists specializing in implant teeth replacement options, bone grafting, and gum treatments will be happy to answer any questions or concerns you may have about fixed zirconia implant bridges or anything else related to oral health. Let us help you find out if these implants are right for you! Contact Us Now.