North of Montana Periodontists
Meet Dr. Aalam and Dr. Krivitsky
The CENTER for Advanced Periodontal and Implant Therapy is the only dual-board certified periodontal practice North of Montana. Dr. Aalam and Dr. Krivitsky are the husband and wife team behind the practice, who take pride in providing their patients with the highest quality of care. With a commitment to excellence, our practice offers cutting-edge periodontal care, combined with advanced techniques and the latest technology to provide our patients with a range of surgical and non-surgical periodontal therapies to restore the aesthetics, health and function of their smiles. A periodontist is a dental expert who specializes in dental implants, as well as the treatment and prevention of periodontal disease. 
As experts in treating issues pertaining to the gums, teeth and supporting structures, including the placement of dental implants North of Montana, they have received the education and training to perform advanced surgical procedures that a general dentist cannot. If you are unhappy with the look of your smile, experience symptoms of gum disease, or are missing teeth, a periodontist North of Montana can help. Contact us today to schedule your periodontal consultation! 
At the CENTER for Advanced Periodontal and Implant Therapy, our dual-board certified periodontists have been serving the Brentwood residents North of Montana for all of their restorative, aesthetic periodontal needs. North of Montana is located just South of Montana, and like its name indicates, North of the popular Montana Avenue. The area consists mainly of bigger, family-style homes, and larger plots of land, and is known for its affluence, as it is one of the most expensive neighborhoods in West Los Angeles. The neighborhood is extremely family-friendly and is known for its walkability and safeness. Throughout any given day you'll encounter hundreds of residents walking through the well-kempt sidewalks on the beautiful tree-lined streets. 
The North of Montana neighborhood is known for its close proximity to the Palisades Bluffs, also known as the Palisades Park, one of Los Angeles' most scenic overlooks. With spanning views of the Pacific Ocean and beautiful sunsets, the area is famous for walking, running, picnicking, and hiking. Also in the area is Gillette's Regent Square tract, developed by the razor blade producer King Gillette. It is a 9,000 square foot lot that is highly sought after by prospective homeowners looking to develop larger homes that would be allowed despite the extremely restricted zoning laws. 
San Vicente Boulevard is the largest main street bordering the northernmost part of North of Montana and is known for hosting some of the most expensive real estate in Los Angeles. Specifically, you can find a number of beautifully developed, expansive homes that are among the most costly in Los Angeles county. With lot sizes ranging from 15,000 to 60,000 square feet and some costing upwards of 20 million dollars, the area is home to some of Los Angele county's most affluent residents. The neighborhood is quite picturesque, with lush greenery and a plethora of rare Moreton Bay fig trees, that make for a suburban oasis tucked away in the bustling city of Santa Monica. North of Montana is a short walk down to the beach, where you can explore the area of Downtown Santa Monica, and find some of Los Angeles' most popular destinations for tourists and residents alike, including the famous Santa Monica Pier, Third Street Promenade, and the Santa Monica Stairs. 
The North of Montana neighborhood borders Montana Avenue from Ocean Avenue to 26th street, a densely populated street filled with trendy restaurants, cafes, retail shops, boutique fitness studios and more. Some of the areas most popular restaurants include R + D Kitchen, Forma Restaurant and Cheese Bar, Kreation Organic Kafe, and Sweet Lady Jane. For those looking to exercise or spend time outdoors, you can find a Yoga Works yoga and pilates studio North of Montana, and several places for outdoor fitness and sports North of Montana including the volleyball courts in front of the Annenberg Community Beach House, Goose Egg Park, and Palisades Park. 
If you are a North of Montana resident looking for a periodontist near you, our expert team is ready to assist. Whether you are looking to replace a missing or damaged tooth, treat an issue with your gum or improve your oral health, a periodontist North of Montana can help. We look forward to working with you!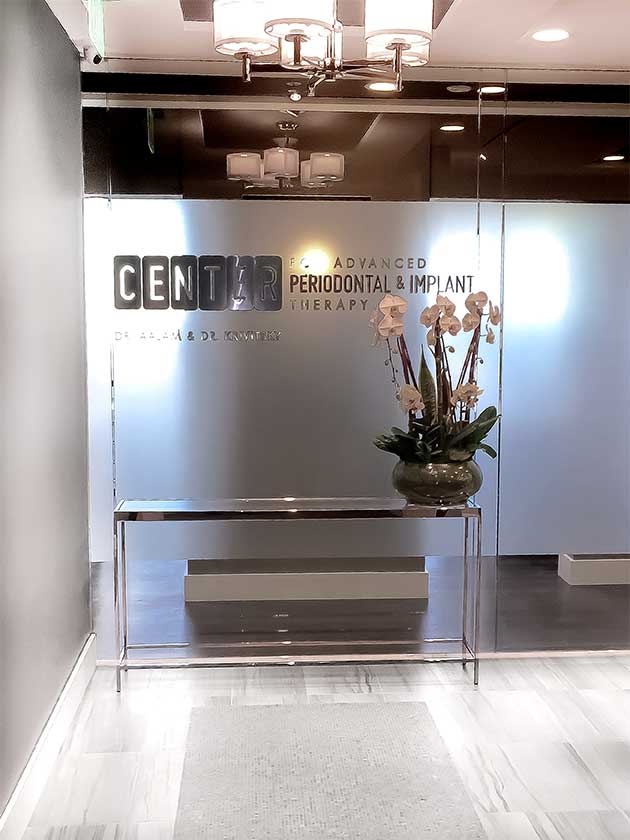 VISIT THE CENTER FOR ADVANCED PERIODONTAL & IMPLANT THERAPY
Virtual Brentwood Office Tour
GET TO KNOW OUR LA OFFICE!
GENTLE, AFFORDABLE & PAINLESS PERIODONTAL CARE in Los Angeles