Meet Dr. Aalam and Dr. Krivitsky
At the CENTER for Advanced Periodontal and Implant Therapy, our dual-board certified periodontists near Chatsworth are proud to cutting-edge periodontal care, that is customized for their unique needs. We strive to ensure each patient feels comfortable throughout their treatment process and leaves our practice confident with their diagnosis, treatment plan, and results. We proudly serve the Los Angeles area, treating the periodontal needs of patients near Chatsworth, Topanga, Canoga Park, and Simi Valley. We understand that no two patients are alike, and consider a number of patient-specific factors when creating the right treatment plan for you. We offer a range of non-surgical periodontal and regenerative therapies as well as holistic dental treatments near Chatsworth to offer our patients comprehensive, effective, and comfortable periodontal care, and lasting results.
When you imagine a beautiful smile, often the first thing that comes to mind is straight, pearly white teeth. However, a healthy, aesthetically pleasing smile, actually begins with healthy gums. A periodontist near Chatsworth is a dental specialist who is an expert in the prevention, diagnosis, and treatment of gum disease, gum related issues, and dental implantology. As a dental expert in treating, maintaining, and restoring healthy gums, you can trust that a periodontist in Chatsworth has been trained in advanced surgical techniques beyond that of a general dentist. As the only dual-board certified periodontal practice in Brentwood, California, Dr. Aalam and Dr. Krivitsky are proud to serve the local community, including patients from Chatsworth, Topanga, Simi Valley, Northridge, and the greater Los Angeles region. Both Dr. Aalam and Dr. Krivitsky serve as Diplomats of the American Board of Oral Implantology, the American Board of Periodontology, and Clinical Assistant Professors at USC's Herman Ostrow School of Dentistry in the Department of Advanced Periodontics. If you have complications with your gums, suffer from gum recession, a gummy smile, or believe you may have gum disease, a Chatsworth periodontist can help. 
A fairly common gum condition we treat at our Los Angeles periodontal practice is what is known as a 'gummy smile.' A gummy smile is a common term used to describe the prominent appearance of gum tissue that conceals the teeth, causing them to appear shorter, and often child-like. Although the adult teeth are normal and healthy in size, the excessive gum tissue causes it to appear otherwise, often causing patients to become self-conscious about their smile. A gummy smile is typically a matter of aesthetics and personal preference but may be caused because of by an oral complication, which is why it is important to receive an accurate diagnosis from a periodontist in Chatsworth, who can determine the cause and best course of treatment for a patient's specific needs. 
​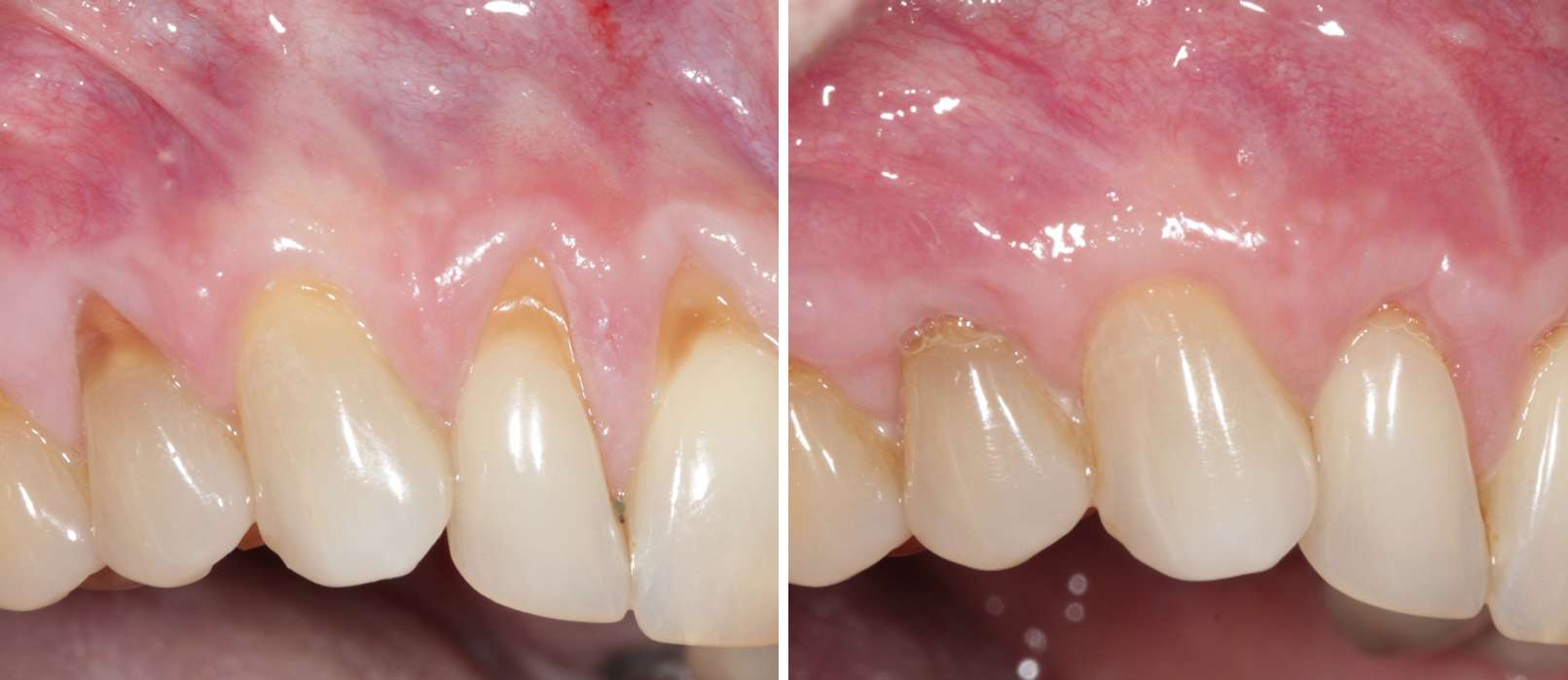 Gummy Smile Treatment in Chatsworth
A gummy smile causes too much gum tissue to become visible above the teeth when speaking or smiling. While it mostly causes aesthetic concerns for many patients, it can be a symptom of other underlying complications with a patient's bite. There are a number of factors that can cause a gummy smile. 
For example, a hyperactive upper lip will cause the lips to raise higher than normal when speaking, to reveal more of the underlying gum, creating the appearance of a gummy smile. In other cases, a vertical maxillary excess, a skeletal issue that causes the upper jaw to be longer can also cause a gummy smile. A gummy smile can also be caused by a condition known as altered passive eruption, where excess gum tissue overlaps the teeth resulting in shorter crown appearance. Because there is such a wide range of possible causes of a gummy smile, it is important to work with your doctor to fully examine your mouth, and find the best course of treatment for your unique case.
A periodontist in Chatsworth can properly diagnose a gummy smile and create a treatment plan that best suits each patients' unique needs. One gummy smile treatment in Chatsworth that your periodontist may recommend is a gingivectomy, to correct the proportion of the teeth and improve the aesthetics of the smile. During a gingivectomy treatment in Chatsworth, your board-certified periodontist near Chatsworth will reshape and remove the excess gum tissue, successfully increasing the amount of tooth that is exposed, and creating an even gum line. The minimally invasive treatment restores a healthy, even gum line, and drastically improves the aesthetics of one's smile, and overall facial appearance. 
If you experience a gummy smile, our periodontists can help. Contact us to schedule your periodontal consultation today!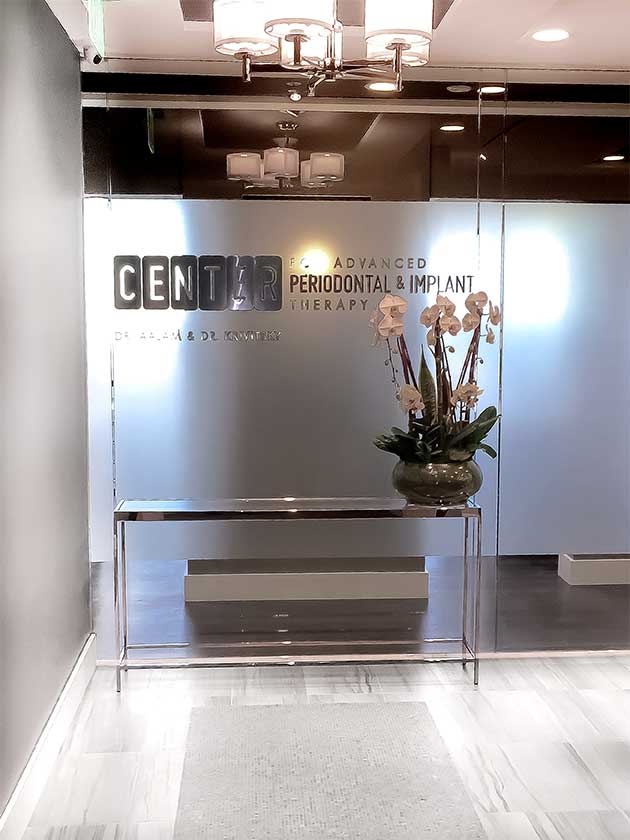 VISIT THE CENTER FOR ADVANCED PERIODONTAL & IMPLANT THERAPY
Virtual Brentwood Office Tour
GET TO KNOW OUR LA OFFICE!
GENTLE, AFFORDABLE & PAINLESS PERIODONTAL CARE in Los Angeles