Holmby Hills Periodontists
Meet Dr. Aalam and Dr. Krivitsky
At the CENTER for Advanced Periodontal & Implant Therapy, your Holmby Hills periodontists are committed to providing their patients with comprehensive, effective, and comfortable periodontal care. As the only dual-board certified periodontal practice near Holmby Hills, Los Angeles,  Dr. Aalam, and Dr. Krivitsky strive to create a comfortable experience for their patients throughout their treatment process. From the consultation to the post-op appointments, our periodontists near Holmby Hills use their knowledge and expertise to provide each patient with a thorough and accurate assessment and diagnosis, a personalized treatment plan tailored for their specific needs, and gentle yet effective periodontal care for life-changing results. If you experience complications with your gums or oral health, or are missing teeth and may need dental implants in Holmby Hills, contact us to set up your consultation with a periodontist in Holmby Hills and learn which treatment is right for you.
The smile is the most important feature on the face. It defines the face, and enhances a youthful, healthy, radiant appearance. There are a number of conditions that can affect the appearance, health, and function of a smile, and a periodontist in Holmby Hills can help. A periodontist in Holmby Hills is a dental expert who specializes in conditions relating to the gums, teeth, and supporting structures. They are specialists in the prevention, diagnosis, and treatment of periodontal disease, and have received the advanced training to perform more complex oral surgeries that a general dentist cannot. Specifically, they are dental implant specialists, who are experts in dental implantology, who understand the intricacies of the mouth and the relationship between the teeth, gums, and underlying bone. If you are missing teeth, or believe you have periodontal disease, a periodontist in Holmby Hills can help restore your smile and achieve optimal oral health!
At our practice, Dr. Aalam and Dr. Krivitisky treat a number of issues relating to the teeth and gums. These treatments include but are not limited to replacing missing teeth, periodontal disease treatment, gum recession treatment, dental implants, and cosmetic dental treatments in Holmby Hills. For example,  some patients are born with a gummy smile, which occurs when excess gum tissue covers the teeth, or in some cases where a hyperactive upper lip causes the lips to raise higher than normal, exposing more of the gum tissue and creating the appearance of a gummy smile. Our Holmby Hills periodontists offer several solutions for gummy smile treatment in Holmby Hills and work with patients to choose the right treatment plan for them. Some patients are born with dark gums, a condition where the gums appear brown in color, usually a result of genetics. In this case, it is important to receive an accurate diagnosis from a periodontist in Holmby Hills to understand the cause of dark gums and the best treatment for dark gums. Although typically dark gums should not be a reason for concern as it is most likely a result of genetics, sometimes dark gums may be indicative of underlying or chronic conditions. If you notice a change in the color of your gums or have lived with dark gums your entire life, a periodontist in Holmby Hills can help. Further, some patients are simply born without teeth and are looking for a permanent way to replace missing teeth. In this case, a Holmby Hills dental implant specialist can assist in creating a treatment plan to properly restore your oral health and a beautiful, new smile. If you are missing teeth, dental implants in Holmby Hills are the ideal solution for permanently replacing missing teeth.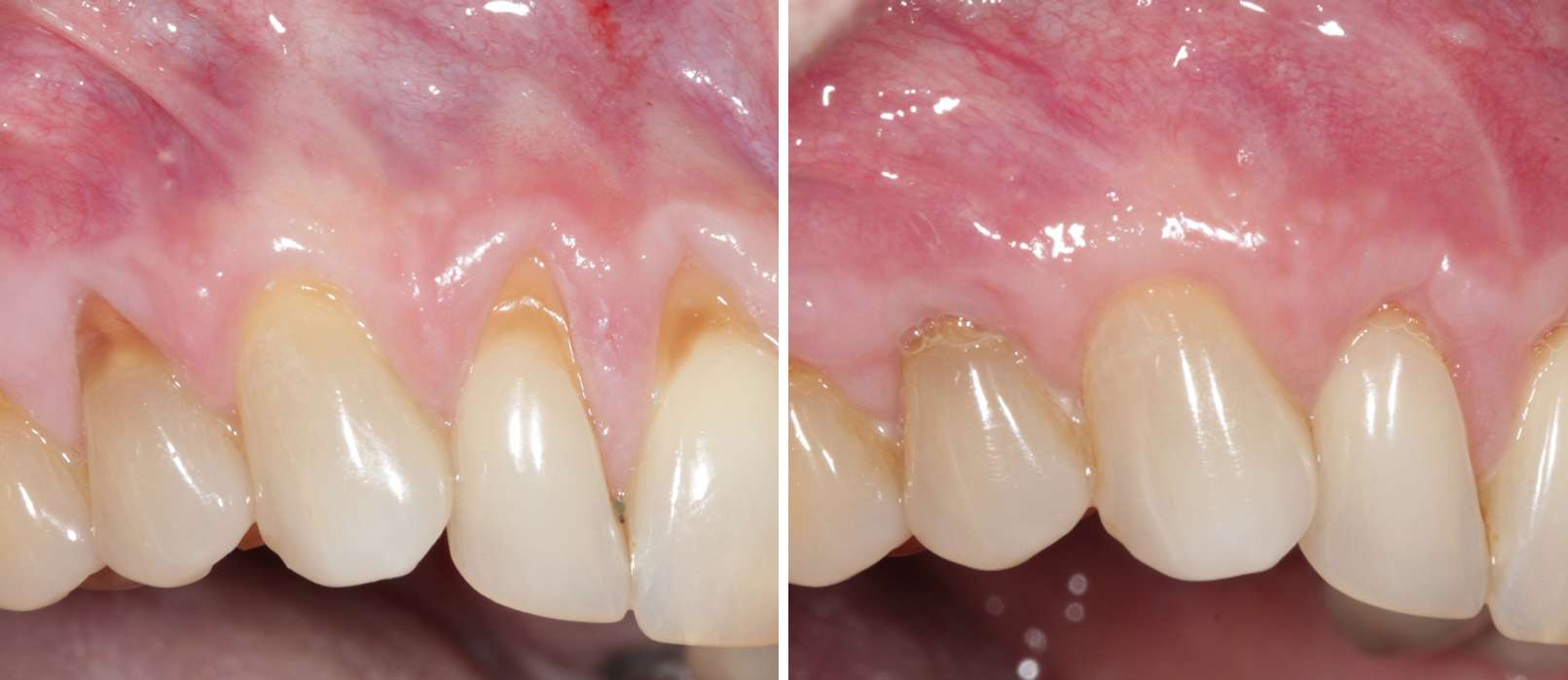 Gum Disease Treatment in Holmby Hills
One of the most common issues treated by our periodontists near Holmby Hills in gum disease. Many patients experience one form or other of gum disease. Nearly 65 million Americans develop periodontal disease annually, which causes damage to the gum tissue, including gum recession where the tooth roots become exposed creating an aged and unhealthy appearance or periodontal pockets, where the gum tissue pulls away from the teeth creating pockets where bacteria can gather and spread potentially causing gum and tooth loss.
Gum tissue should be light pink in color, and fit tightly around each tooth, with only 1-3 millimeters of space. Gum tissue that is red, inflamed, or bleeds when brushing and flossing, may be an indication of gum disease. If your gums are inflamed, this is the first stage of periodontal disease, also known as gingivitis. Gum disease is caused by the bacteria found in plaque, that can spread throughout the mouth, eventually reaching below the gum line, affecting the teeth and underlying bone. If you experience symptoms of gum disease, there are several gum disease treatments in Holmby Hills that can help restore your oral health. Contact us today and a Holmby Hills periodontist can discuss the best treatment plan for you. 
Depending on the case, a Holmby Hills periodontist can perform a comprehensive analysis to provide an accurate diagnosis and subsequent treatment plan to restore a healthy, beautiful smile.  By giving our patients the ability to do the simplest things many take for granted like eating and chewing with ease and comfort, and smiling confidently, we help restore a sense of normalcy in their life. It is our greatest privilege to help our patients love their smiles, and we are grateful to be trusted to treat their periodontal needs!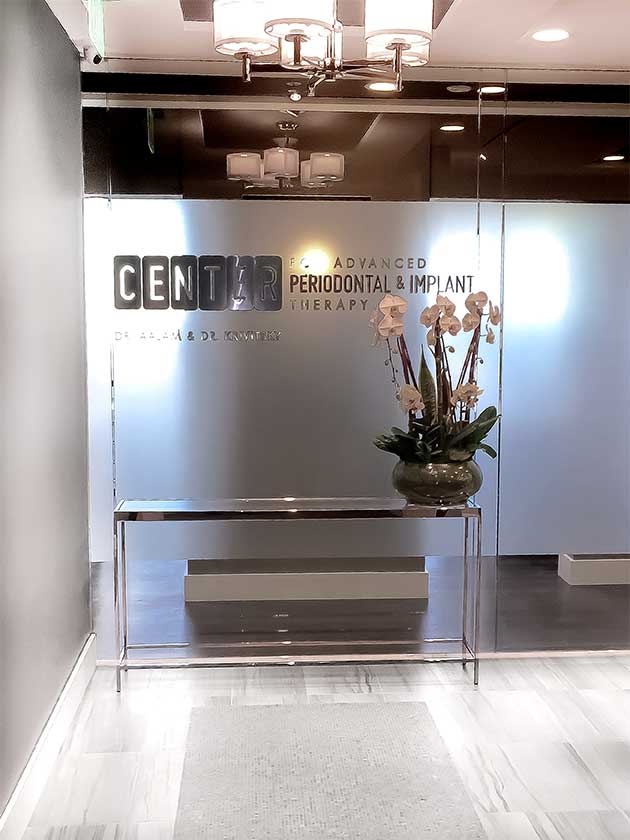 VISIT THE CENTER FOR ADVANCED PERIODONTAL & IMPLANT THERAPY
Virtual Brentwood Office Tour
GET TO KNOW OUR LA OFFICE!
GENTLE, AFFORDABLE & PAINLESS PERIODONTAL CARE in Los Angeles