What is the Bonner Method?
The Bonner Method is a non- traditional approach to treating a periodontal disease that is completed over the course of approximately twelve months. Samples of plaque are analyzed under a microscope to better understand the root causes of periodontal disease and effectively treat the source of the infection. Our goal is to cure the gum disease at a microscopic level, educate our patients, and give them the tools so that they prevent it from reoccurring over time! 
Up until now, we have implemented a standard procedure for treating periodontal disease. We begin with a deep cleaning to reduce inflammation and infection, followed by additional periodontal maintenance treatments if needed, and follow up appointments. Unfortunately, because our bodies are continuously fighting infection and inflammation, this type of treatment method manages the disease, rather than cures it. 
Although it is standard to analyze disease under a microscope in most medical fields, the dental industry has an exemption-until now! Successfully practiced in Canada and Europe for more than a decade, we are excited to be at the forefront of this new industry standard within the U.S., as one of the first practices in America who examines gum disease under a microscope to understand the root cause and provide our patients with personalized treatment to meet their unique needs.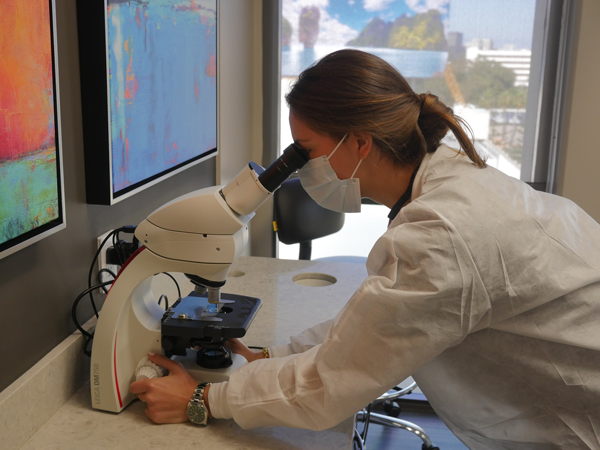 How it works
While periodontal disease is most commonly caused by the bacteria found in plaque, we now know that gum disease can also be caused by parasites that colonize within the gum pockets in the mouth, slowly causing tissue destruction, and negatively impacting the body as it releases toxins in the mouth causing immediate and long term damage. If left untreated the neurological by-products of bacteria are released into the tissue, triggering a chronic inflammatory response, which can lead to a number of systemic health conditions throughout the body and affect your overall health. There is a symbiotic relationship between oral health and systemic health, and with this new understanding, we can now treat patients in a way that specifically targets the root causes of periodontal disease to restore our patients' oral health!
Bonner Method Treatment Overview:
10 office visits

Personalized oral hygiene routine that combines specific brushing and flossing techniques, at-home protocols for proper oral hygiene care, and three prescribed medicaments, 

Analysis of plaque sample with the non- surgical specialist during each visit 

Review and adjustment of (if needed) at-home routine during each visit. Remember, a diligent at-home routine is crucial to your success!
Progress of the treatment will be determined by three microscope samples of your plaque at each visit. Each appointment will differ from a traditional appointment with your dental hygienist, as we focus on analyzing the plaque samples together and discussing the homecare habits and techniques needed to guide towards successfully curing your periodontal disease. Diligence at home is crucial to your progress. 
Treatment Breakdown: 
Phase 1: Diagnosis
With microbiological analysis, x-rays, and clinical examination in the dental chair, we assess the degree of your disease and establish an appropriate treatment plan. 
Phase 2: Eliminate the Cause
Using a combination of antiseptics and appropriate local or systemic antibiotics, we work to eliminate pathogenic bacteria and parasites.

This phase will last several months and will include monthly oral sampling to assess the progress of your bacteria and adjust your treatment as necessary 
Phase 3: Deep Cleaning Series 
As a result of periodontal disease, patients have a buildup of bacteria that forms under the gums. Using ultrasonic technology and dental instruments, we eliminate the calculus and buildup without damaging the healthy tissue. This phase can take several months, and will only begin once the parasites and bacteria are completely eliminated. 
CONTACT US TO LEARN MORE ABOUT THE BONNER METHOD FOR GUM DISEASE
At the CENTER for Advanced Periodontal and Implant Therapy, we are committed to providing our patients with excellence in care and do so by utilizing cutting-edge techniques coupled with advanced education to learn how we can better serve our patients. If you experience gum disease, The Bonner Method might be right for you. Contact us today to get started!