How Much Do Dental Implants Cost?
A FLEXIBLE APPROACH TO YOUR DENTAL IMPLANTS COST
We would love to be able to give you an exact number for what your dental implants will cost in our Brentwood Los Angeles office. Unfortunately, because all patients are different, it's important that an examination be completed before establishing your treatment plan and the costs of dental implants so you know the number of implants and the types of dental implants you will need.
That's the "bad news". Here's the good news…
We will work with you when more extensive treatment is needed to craft a payment plan that works for you. We believe that dental care should be within everyone's reach and will work to accommodate your personal financial situation to the best of our ability.
GETTING STARTED With Dental Implants
The first step to finding out the cost of your dental implant surgery is setting up an initial consultation. An approximate fee can usually be determined during this initial visit and we can discuss the easy financing options, what your dental insurance may cover and how you can fit the cost of dental implants into your budget and lifestyle.
Call us at (310) 826-8242 to schedule your initial consultation.
QUESTIONS About the costs of dental implants? WE WANT TO HEAR FROM YOU!
types of dental implants procedures we offer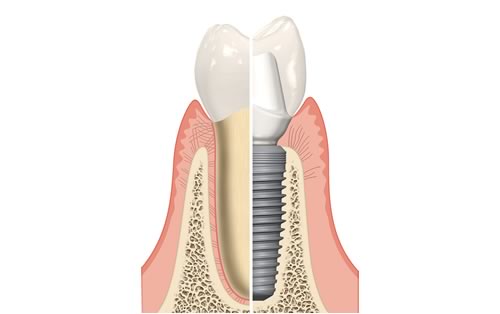 SINGLE IMPLANTS
A Single Dental Implants is a titanium or zirconia post that is surgically placed into the jaw to replace a single tooth root. This post naturally fuses to the bone, to function just as a tooth root. The post supports an artificial tooth implant crown that looks, feels and acts exactly like a natural tooth.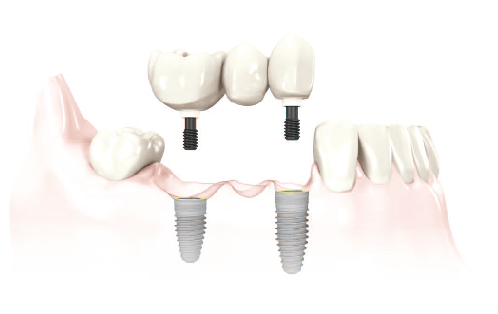 Multiple Implants
Multiple Dental Implants look and function precisely like natural teeth, without affecting the surrounding teeth. It's always best to maintain a patient's existing healthy teeth, which is why multiple implants are often a better solution for patients looking to replace several missing teeth.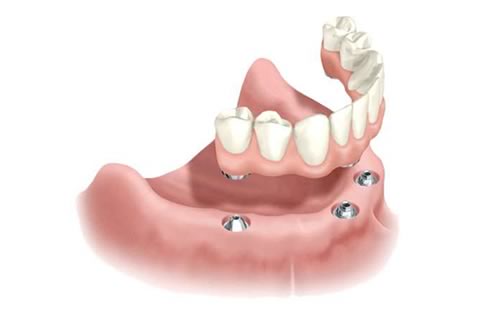 ALL-ON-4
®
The All-On-4® dental procedures utilizes a minimum of four dental implants to support a full-arch fixed prosthesis and completely restore a patient's smile in just one day. This tooth replacement procedure is ideal for patients who are missing all or the majority of their teeth.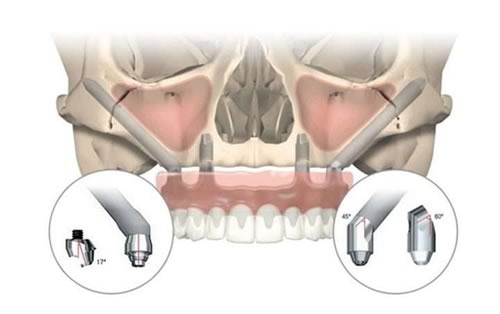 ZYGOMATIC IMPLANTS
Zygomatic Dental Implants utilize patients' existing bone density by anchoring the extra long implants closest to the cheek bone, also known as the zygomatic bone. This dental implant surgery solution is a graftless treatment ideal for patients who experience severe forms of bone loss.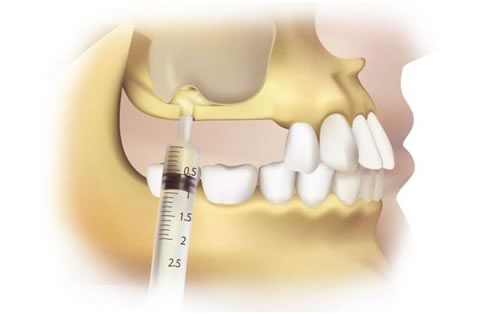 sinus lift
Sinus Augmentation (sinus lift) is performed when the sinus floor is too close to the area where dental implants are to be placed. This procedure is performed to increase the amount of bone in the upper jaw to ensure a secure foundation for the implants, while protecting the sinus.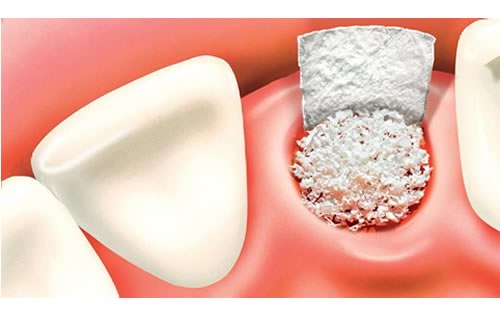 Bone Graft
Bone grafting is the process of restoring lost bone tissue in the jaw. When left untreated, periodontal disease can progress to and damage the supporting bone. Because dental implants are placed into the jawbone, patients must posses enough bone to support the implant. A bone graft is performed when patients lack adequate bone density.
Schedule Your Consultation today
Your road to a healthy smile starts with a phone call. Our friendly staff will book a consultation where we'll chart a path that delivers long-lasting results at a price that makes sense.
Our Location
(11620 WILSHIRE BLVD #718 LOS ANGELES, CA)
Why Choose The CENTER for Advanced Periodontal & Implant Therapy
We are experts in our field
We accurately diagnose conditions the first time and provide tailored treatments to suit every patient's individual case
We offer a friendly, relaxed environment and a thorough explanation of your condition
We utilize cutting-edge and noise canceling technology to provide you with the most comfortable experience
We provide anesthesia and sedation techniques that make your experience easy and painless
We offer holistic alternatives in order to cater to our patients' unique needs
We use the best dental implants and dental materials on the market
Schedule Your Consultation today
Your road to a healthy smile starts with a phone call. Our friendly staff will book a consultation where we'll chart a path that delivers long-lasting results at a price that makes sense.
Our  Reviews
(Click arrows to see more)
Dr. Aalam is hands-down the best! I had a receding gums and was referred to him to do gum grafting, a procedure I was extremely nervous about. He was so kind and took his time to walk me through the entire process and answer any and every question I had. She goes above and beyond to make sure you feel comfortable, don't have any questions, and even reached out to me after the proceed to see how I was feeling - 10/10 recommend!

Amir N.


9/13/2022

Me and my husband got our cleaning done today by Ava.  It was an amazing experience.  Ava is the best!  She so detailed and and excellent hygienist.  I usually go to my friend that is a hygienist but since she has moved and had been unable to go.  Ava is the best replacement.  I was so hesitant but she made our decision really easy.  We will keep coming to her. Dr. Aalam and Dr. Krivitsky are professional and experienced. I highly recommend this office for your cleaning or any periodontal needs. Always ask for Ava if you need a dental cleaning.

Abigail M.


8/05/2022

Dr. Aalam and his team are truly outstanding and I could not be happier with the results I got! Dr. Aalam is truly an expert in his field and cares about his patients. I had a complicated case and saw numerous experts but I decided to go with Dr. Aalam. I am extremely happy with the outcome of my treatment and the care I received. Highly recommend Dr. Aalam and his team!

Dajana C.


9/13/2022

I saw Dr. Krivitsky today as a new patient and what an incredible office!  She was extremely knowledgable and took time to explain my condition.  She's also very warm and caring.  The office is gorgeous and staff all professional and courteous.  Highly recommend and will be back for my follow-up visit!

Tigran G.


8/31/2022

Never have I ever!!! thought I would describe crown lengthening as a pleasant experience.
From the beginning till the end it's been a pleasure to see my smile painlessly transform.
I combined wisdom tooth extraction with crown lengthening.
I was panicking about the pain about my operation day landed on Friday about all sort of things but I really trusted Dr.Aalam. Once you meet him you'll see it yourself. He is just one of those doctors who wins you right away.
It was absolutely painless, before during and after the surgery! Honestly I don't even know how it is possible. It sounds like a magic but it's true.
Dr. Aalam gave me his cell , office were responding my emails within an hour during the weekend!! I was supplied with all the medication I might need. I felt super safe and blessed.
Only two weeks and I came back to my normal life. I mean I was totally fine on 4th day , it's just the stitches that you have to be careful with other than that you good to go.
I love my new smile, small changes big difference. I didn't take before after but doctor did. Might be on their insta or web
I'm grateful to the doctor and the team for amazing job!

Maria V.


9/08/2022

My primary dentist referred me to this office and I am so glad he did! All the staff is very welcoming and Dr. Aalam and Dr. Krivitsky are wonderful! Over the last year my dental health has improved greatly so I am very pleased.  I had my first appointment with dental hygienist Ava today and she was great!
Her friendliness and gentle touch made my cleaning a breeze. I highly recommend this office to anyone looking to improve their dental health.

Maria R.


7/19/2022

Ava, my dental hygienist, was very helpful, not just during the actual cleaning, but especially afterward when she walked me through how exactly I can maintain my teeth health and better improve upon my existing routine.

Anonymous 3.


8/02/2022

Needed to update my review to talk about the thorough and thoughtful follow-up to my grafting procedure. Almost two years later, I feel heard and considered in each appointment. And Madison, who's become my regular hygienist, is a rock star. The procedure recovery was a rough road. But the results and the care I received confirm that I chose the right team. I highly recommend.

Kay S.


8/30/2022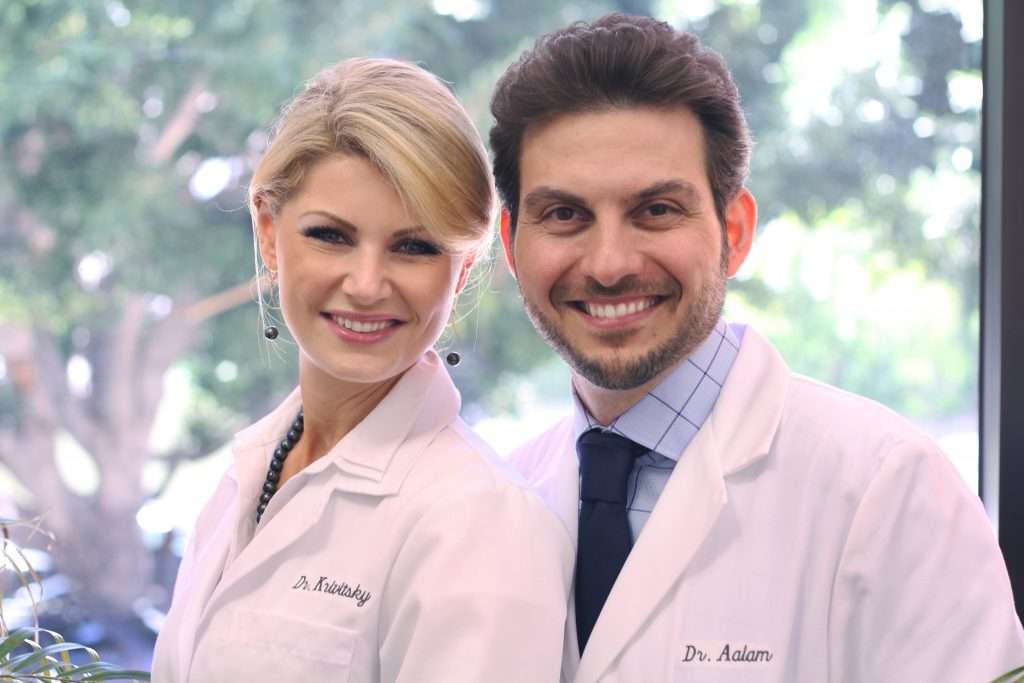 Alexandre-Amir Aalam, DDS, and Alina Krivitsky, DDS, are here to help. This husband-and-wife periodontal team operates out of the only periodontal office in Brentwood and has the experience necessary to treat anyone's oral problems. They have helped thousands of patients improve their mouths' functionality and aesthetics. Contact their office today at (310) 826-8242 to schedule an appointment with the best dental implant periodontists in Brentwood or to learn more about the various periodontal procedures performed at their center.
QUESTIONS? WE WANT TO HEAR FROM YOU!
Level of Care
You have to be completely comfortable with your periodontist so that you can proceed with your procedure with confidence. You should have the opportunity to have a face-to-face meeting with the surgeon, have the opportunity to express your concerns, and then have the procedure explained to you thoroughly. Most importantly, you should never proceed with a surgical procedure until you have all of your questions answered.
Thorough communication and a commitment to providing excellence in dental care, Dr. Aalam and Dr. Krivitsky strive to ensure that their patients understand the treatment process, are comfortable throughout their experience and are confident with the results of their dental procedures!
QUALIFICATIONS
Both Dr. Aalam and Dr. Krivitsky are the ONLY diplomats of the American Board of Periodontology in Brentwood, CA.
A Diplomate is a periodontist who has made significant achievements beyond the mandatory educational requirements of the specialty and who is certified by the American Board of Periodontology.
To be educationally qualified for Board certification requires:
Certification as a dentist, including basic college education and completion of dental school to earn the D.D.S. or D.M.D. degree and;
Certification as a periodontist after successful completion of an educational program in Periodontology, which is accredited by Commission on Dental Accreditation of the American Dental Association.
Comprehensive qualifying and oral examination covering all phases of periodontal disease and its treatment, including dental implants.
Recertification every six years.
Dr. Aalam is also a Diplomate of the American Board of Oral Implantology.
Your skillful Brentwood periodontists are dedicated to their craft and have been perfecting their practice for over 20 years. Abreast of all the latest advances in periodontics, Dr. Aalam and Dr. Krivitsky continue advancing their education year after year, by serving as clinical Professors of Dentistry at the University of Southern California, contributing to the field through ongoing research, and teaching globally on the developments in periodontology and teaching other dental surgeons.
Meet Alexandre-Amir Alam, DDS
Meet Alina Krivitsky, DDS
Schedule Your Consultation today
Your road to a healthy smile starts with a phone call. Our friendly staff will book a consultation where we'll chart a path that delivers long-lasting results at a price that makes sense.
Q: What are dental implants?
A: Dental implants are artificial tooth roots, either made of titanium or the holistic alternative, Zirconia, that are placed in the jaw bone and support permanent restorations to replace missing or extracted teeth. Once the implant is placed, it takes 3-6 months for the implant to fuse to the jawbone, also known as the osseointegration process, and the surrounding gum tissue to heal before a permanent artificial tooth can be fastened to the implant.
Q: Will my teeth implants match my existing natural teeth?
A: Yes! Your teeth feature a custom-designed porcelain crown that perfectly matches the shade of your existing teeth. Patients often have difficulty distinguishing their natural teeth from their beautiful new teeth implants.
Q: Are there any age limitations?
A: Any person over the age of 18 can have dental implants as long as there is enough bone available in which to place the implant. Younger than 18? Get in touch with our Brentwood, Los Angeles office for an expert opinion on what your best options are!
Q: How often will I need to have checkups?
A: The success of your implants will depend greatly on how well you maintain them. They need to be professionally cleaned and examined once every three to six months. Also, brushing and flossing daily is absolutely necessary for long-term maintenance of your teeth, as well as maintaining overall systemic health. We offer periodic educational seminars on how to maintain healthy gums and increase total oral health.
Q: Is the dental implant procedure painful?
A:
No, it is not. We are
dental implant experts
. We pride ourselves on pain-free and gentle treatment. An effective local anesthetic is used during the procedure so that you do not have any discomfort during the placement of the dental implants. We also use an IV sedation method that is designed to help the patient relax and feel at ease. This sedation works quickly and completely relaxes the patient and eliminates any stress or anxieties. Although this method does not induce sleep, the patient will feel relaxed and the
periodontist
will be able to accomplish a higher level of dentistry in a shorter amount of time. The mild discomfort you might experience after dental implant surgery can be controlled with medications.
Q: When can I return to work after tooth implant surgery?
A: You can return to work after a dental implant procedure in Beverly Hills the following day unless a particular surgical circumstance arises. Dr. Aalam or Dr. Krivitsky will discuss all post-operative care instructions with you.
Q: What if I want "metal-free" implants?
A: For patients who prefer non-metal implants, we offer holistic alternatives made of Zirconia, a type of ceramic. Zirconia implants possess a unique one-piece design, meaning the artificial tooth root and the abutment (the piece the replacement tooth is fastened to) are connected, in contrast to titanium implants which are two pieces. The biocompatible material offers the same strength as titanium dental implants, and Zirconia implants are also white in color, which may be a more aesthetically pleasing option for some patients, as the metal isn't visible.
Q: What is All-on-4?
A: All-on-4® is a revolutionary procedure that restores a patient's smile by replacing all missing teeth, either on the top, bottom, or both, utilizing a minimum of four implants, in one day. Patient's leave with a complete set of teeth and a beautiful smile on the same day. This procedure is particularly beneficial for patients who experience bone loss, as it is a graftless solution that utilizes existing bone density and tilted implants to support the permanent restorations. Did you know Dr. Aalam was trained in Portugal by Dr. Paolo Malo, the founder of the All-On-4 technique? Dr. Aalam and Dr. Krivitsky are dental implant experts who provide life-changing results for their patients.
Q: How much do implants cost and does insurance cover the cost?
A: The cost of single tooth and multiple dental implants in Los Angeles varies depending on each patient's specific case. Elements including the number of teeth missing, whether a patient experiences bone loss and chooses a graftless solution or requires a bone graft, the type of implant chosen, the number of implants and whether additional treatments such as gum grafts are needed can factor into the overall cost. The first step into understanding which dental implant surgery treatment plan is best for you and receiving a quote is to schedule a consultation with your periodontist in Los Angeles to receive a proper diagnosis.
Q: What are the advantages of dental implants?
A: Dental implants replace inconvenient or non-permanent dental solutions (such as dentures). No more messy nightly soaks, or dental replacements needed when you choose to have a dental implant procedure. Permanent implants are extremely durable, as they won't slip like traditional dentures and can last a lifetime with the proper maintenance. These permanent teeth will look, feel and function like your regular teeth, improving your ability to chew and speak without any impediments. Most patients opt for dental implants to restore their smiles, self-esteem, and confidence, so they enjoy a healthy smile, worry free!
Schedule Your Consultation today
Your road to a healthy smile starts with a phone call. Our friendly staff will book a consultation where we'll chart a path that delivers long-lasting results at a price that makes sense.