Periodontal Treatment in Venice, California
Meet Dr. Aalam and Dr. Krivitsky
The only dual board-certified periodontists near the Venice, Los Angeles area, Dr. Alexandre Aalam and Dr. Alina Krivitsky offer cosmetic and restorative periodontal procedures at the CENTER for Advanced Periodontal & Implant Therapy. With adept expertise of periodontal disease treatment and dental implantology, our Venice Los Angeles periodontists offer cutting-edge solutions to restoring our patients' oral health and function, and re-establishing their self-confidence with natural looking, beautiful smiles. Contact the CENTER today for a periodontal consultation in Venice, Los Angeles with our specialists.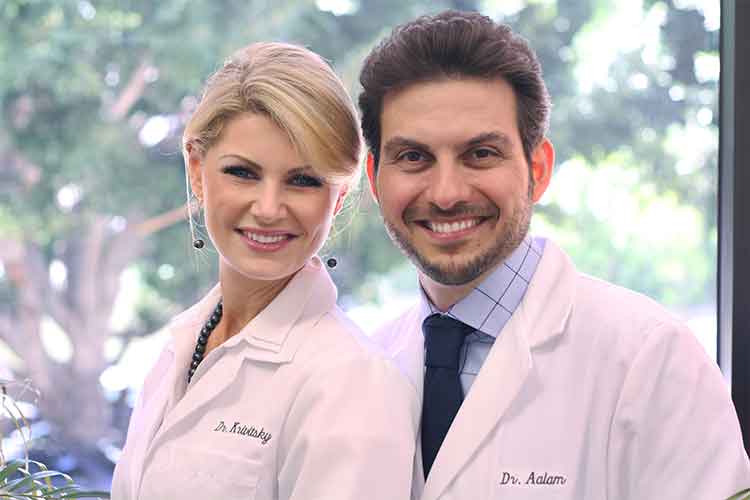 Meet the #1 Periodontal Practice in Venice, California
Dr. Aalam and Dr. Krivitsky are expert periodontists in Venice, California, who are committed to helping their patients achieve optimal oral health. With a thorough and comprehensive diagnosis, your Venice periodontist will create a treatment plan based on your specific periodontal needs. Because complications with your teeth, gums and supporting structures require the treatment of a periodontist in Venice, California, and not just an ordinary dentist, it is important to schedule your consultation with your Venice periodontist in order to ensure you receive proper treatment and achieve ideal results! A beautiful smile begins with healthy gums and teeth. Regardless of the type of dental work in Venice, California you are in need of, if you experience any kind of infection, inflammation, tooth loss, or pain with your teeth and gums, allow us to restore your oral health and help you achieve a beautiful, healthy smile!
Periodontal Treatment in Venice, Los Angeles
Periodontists are dental specialists who are experts in treating oral conditions associated with the gums and supporting tooth structures. Periodontists in Venice, Los Angeles specialize in dental implant placement, and the prevention, diagnosis and treatment of periodontal disease As the only dual-board certified periodontists near Venice, Los Angeles, Dr. Aalam and Dr. Krivitsky are committed to providing the latest in periodontal care in Venice, utilizing cutting-edge technology and advanced techniques to transform your smile and improve your oral health and overall health. Conveniently located, access comfortable, comprehensive, and extensive periodontal care in Venice, Los Angeles.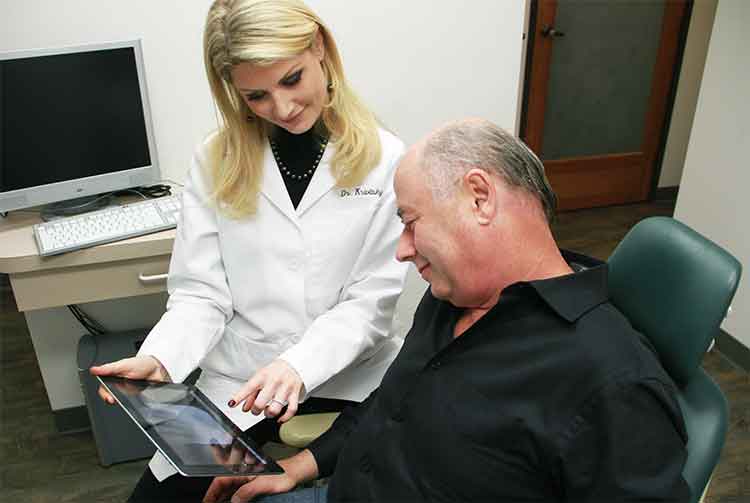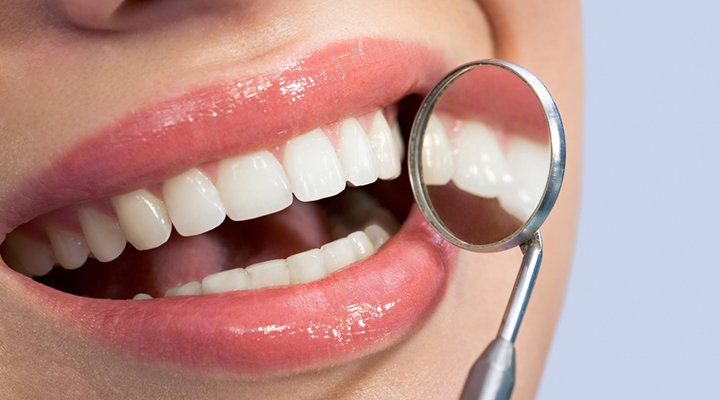 MAINTAINING HEALTHY GUMS IN VENICE, CA
When you imagine a beautiful smile, often the first thing to come to mind are how white or straight the teeth are. But a dazzling smile actually begins with healthy gums. Gum health is the number one most important part of sustaining lasting oral and overall health, and a healthy, picture-perfect smile. Caring for your gums is simple, as long as you implement a proper at-home oral hygiene routine, which includes brushing twice a day, and flossing once a day. 
Plaque is a sticky film that builds up around the teeth is carries bacteria, and can harden within 12 hours. If you take proper care of your teeth and work towards optimal oral health, brushing and flossing daily, you can avoid a buildup of plaque and prevent damage to your teeth and gums, including tooth decay and gum disease. If the plaque is left on the teeth and is not removed regularly through brushing and flossing, it will harden into tartar, also known as calculus. Calculus can form both below and above the gum line, where the bacteria can spread deeper into the gums, causing inflammation, periodontal pockets and permanent damage to the underlying bone. If you experience any signs of periodontal disease in Venice, Los Angeles, it is important to see a periodontist in Venice, California to properly diagnose and treat the affected areas, and restore your oral health.
Healthy gum tissue should be light-pink in color, and fit tightly around each tooth with no more than 1-3 millimeters of space between the gum tissue and tooth. As periodontal disease spreads, the gum tissue will become inflamed, and slowly pull away from the teeth. The space that forms between the tooth and the gum tissue is known as a periodontal pocket. These pockets allow bacteria to accumulate and spread throughout the gums, causing the gums to recess and wear away. If you experience gum recession in Venice, Los Angeles as a result of periodontal disease, seeking care from an expert Venice, California periodontist is the first step towards restoring your oral health.
At the CENTER for Advanced Periodontal & Implant Therapy, our Venice, Los Angeles periodontists offer innovative, comfortable and minimally invasive periodontal therapies to help you achieve optimal oral health and restore your smile. Through a thorough, expert diagnosis and personalized treatment plan, our periodontists in Venice, California are committed to excellence, and strive to create treatment plans based on patients' specific needs. No two cases are alike, and it is important to seek periodontal care from a periodontist in Venice who understands your unique needs, and has the experience, expertise and integrity to help restore your oral health. Whether you are in need of a deep cleaning in Venice, Los Angeles, periodontal disease treatment in Venice, gum graft procedure in Venice, California or simply experience pain and are seeking comfortable periodontal care in Venice, Los Angeles, our periodontists look forward to providing you with gentle and effective treatment for your periodontal needs.
Located just a short drive from Venice, Los Angeles the CENTER for Advanced Periodontal & Implant Therapy is your source for therapeutic and aesthetic periodontal treatments including the following:
Dr. Aalam and Dr. Krivitsky are proud to offer many of the above procedures with parenteral IV sedation. Not only does sleep dentistry ensure patient comfort, but it also minimizes surgery times and results in less pain during the recovery period. If you would like more information about our periodontal treatments, feel free to schedule an appointment with our specialists.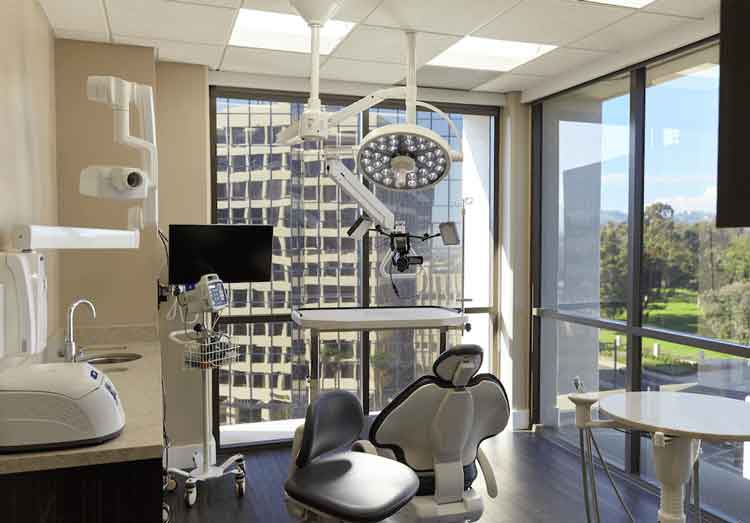 WHAT OUR VENICE, CALIFORNIA PATIENTS ARE SAYING…
I was referred to Dr. Aalam for bone graft and implant. He did the extraction and bone graft so beautifully and painlessly. I am a pediatric dentist and all I could think of was I hope my patients are as comfortable with me as I am with Dr.Aalam and his beautiful office and staff. 
Everyone made the experience so easy and perfect. I would refer this office to everyone. Thank you for making my periodontal experience so pleasant!
I always enjoy my visits to Dr. Aalam. From successful soft tissue surgery on a region that other periodontists didn't want to touch, to follow up visits, every experience has been timely, warm and professional. Both doctors are so pleasant, engaging and friendly, as are the staff members. I've always felt I had the opportunity to ask questions and learn new ways to improve my oral health. 
Dr. Aalam is that rare breed of human who is a great professional and a good human being as well. He took care to explain all of the factors that should go into deciding whether or not I should go for the surgery – he didn't just try to sell me on it. Dr. Aalam himself is extremely kind and approachable so it was a pleasure to get to know him on a more personal level as well.  I'm currently on day 3 post-op and the healing process is going perfectly smoothly, which is not a surprise given Dr. Aalam's level of expertise.
I traveled from out of state because I believe in Stem Cell Therapies and PRP (having had great results with other stem cell treatments). Dr Aalam was able to treat my entire mouth in 1 visit. (With traditional tunnel grafts it would have required 4 separate visits and cost at least twice as much.) The PRP worked wonders. The gum tissue is now healthy, and it was worth the journey.
Before And After Photos
Take a look at this incredible before-and-after photo of a patient who restored their smile with a permanent dental implant.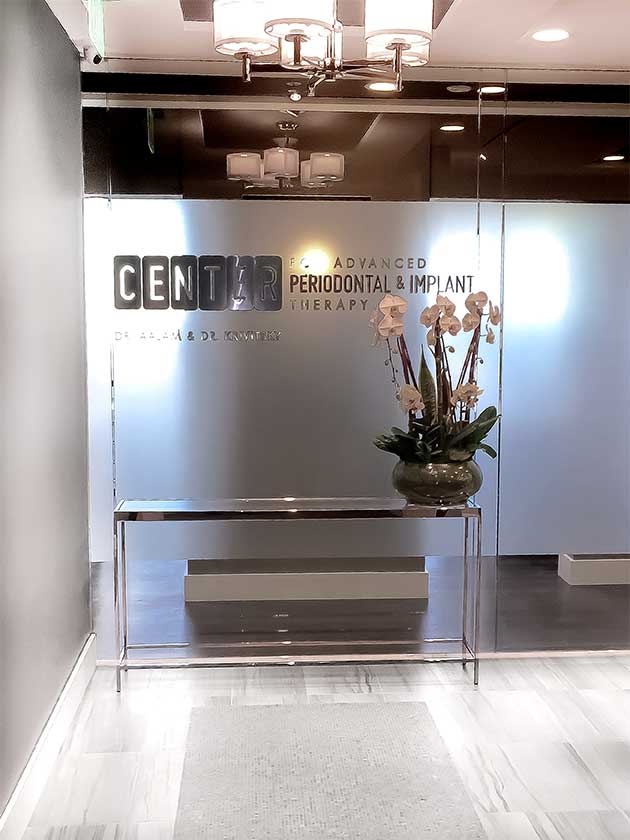 VISIT THE CENTER FOR ADVANCED PERIODONTAL & IMPLANT THERAPY
Virtual Brentwood Office Tour
GET TO KNOW OUR LA OFFICE!
GENTLE, AFFORDABLE & PAINLESS PERIODONTAL CARE in Los Angeles