Brentwood Park Periodontists
Meet Dr. Aalam and Dr. Krivitsky
Meet Our Brentwood Park Periodontists
The CENTER for Advanced Periodontal & Implant Therapy is the only dual-board certified periodontal practice near Brentwood Park, Los Angeles. Offering the most cutting-edge periodontal using advanced technology, Dr. Aalam and Dr. Krivitsky aim to provide each patient with life-changing results. Both periodontists near Brentwood Park are Diplomates of the American Board of Periodontology as well as Diplomates of the American Board of Oral Implantology. Our Brentwood Park periodontists strive to create an exceptional experience for patients, where they receive thorough, comfortable and effective periodontal care that allows them to achieve optimal results and beautiful smiles! To set up your periodontal consultation with one of our Board Certified periodontists near Brentwood Park, contact us today!
Zygomatic Dental Implants
Dental implants are the ideal solution for replacing missing or damaged teeth. They restore the aesthetics and functionality of the mouth, allowing patients to resume the simple comforts of life such as chewing with ease and smiling with confidence. Simply put, dental implants are artificial tooth roots that are placed into your jaw to replace damaged or missing tooth roots, and serve as a foundation to a permanent restoration, also known as an artificial tooth. These implants are rooted into the jawbone, and during a process called Osseointegration, become a permanent part of your jaw over the course of a few months. Because dental implants are placed into the jaw, it is crucial that the patient possesses enough bone density to securely hold anchor the implant. Periodontists near Brentwood Park are dental specialists who are experts in treating periodontal disease and issues associated with the teeth, gums and supporting structures, and in dental implantology. Therefore, it is imperative that you seek the medical advice of a Brentwood Park periodontist if you experience complications with your gums, or if you are missing teeth. Our Brentwood Park periodontists can provide you with a thorough diagnosis to determine the best treatment plan for your needs.
Patients who suffer from bone loss and lack the bone density in their jawbone needed to support an implant are often told they are not a candidate for dental implants. However, there are several periodontal treatments near Brentwood Park that still allow patients to achieve the smile of their dreams! For patients lacking the bone density needed to place single or multiple dental implants near Brentwood Park, Los Angeles, a bone graft can be performed to restore bone density and successfully anchor the dental implant. For patients who suffer from the most extreme forms of bone loss, our Brentwood Park periodontists offer several graft-less solutions to replacing missing teeth without a bone graft.
Zygomatic Dental Implants in Brentwood Park are a more efficient solution for patients who suffer from the most extreme form of bone loss in their upper jaw. For those patients who experience extreme maxillary bone loss and cannot be treated with traditional implant surgery, this procedure offers an alternative solution to block bone grafting and sinus lift bone grafting, which typically requires taking bone from other parts of the mouth to support the implant. If you experience extreme bone loss, Zygomatic dental implants near Brentwood Park may be the ideal solution to restoring a complete, beautiful, and healthy, new smile!
Unlike classic implants that are drilled directly into the mouth, Zygomatic Dental Implants are extra-long implants that utilize the bone density from the zygomatic bone to support the implants. These unique implants are rooted in the zygomatic bone, also known as the cheekbone, which provides a secure foundation to support the implant. One to two zygomatic implants are anchored on each side of the mouth near the cheekbone, along with an additional 2-4 regular implants that are placed in the front of the mouth, to sustain the new front teeth. A temporary set of teeth are placed so that patients do not leave the Brentwood Park periodontist office without teeth or an incomplete smile. Patients are expected to heal for four months, after which the permanent, full-arch restoration can be placed, restoring a fully functional set of teeth for the patients.
Zygomatic dental implants near Brentwood Park provide patients with a number of benefits. These implants are the ideal solution for patients who are told they are not candidates for dental implants because their bone loss is too extreme. It is a cost-effective and efficient alternative for patients in need of dental implants who do not want to go through 6-8 months of bone grafting and healing, or who have had failure of the traditional approaches and do not want to start all over. In the majority of cases, patients also leave their periodontist in Brentwood Parks's office with a complete smile. This "same-day-smile" allows patients to receive a fixed, screwed on the temporary set of teeth that will allow them to eat, function and resume a normal lifestyle while the implants heal and integrate into the bone. Once the integration of those implants is verified (4 months after the surgery), the restorative dentist will place the permanent set of teeth that will look and fit better all corrections made for that first set of temporary (blueprint).
WHAT OUR MAR VISTA PATIENTS ARE SAYING…
Patients trust Dr. Aalam and Dr. Krivitsky to provide expert, personalized care in a spa-like environment:
I have had two separate periodontal grafting with Dr Aalam. One for upper teeth done two years ago and one for lower teeth done three weeks ago. He is truly top notch. I'm happy with the way the uppers have healed and am looking forward to seeing the lowers heal too.
From the time I entered the front door for my consultation, to my follow up appointment after gum surgery, Dr. Krivitsy and all of her staff gave me wonderful service! Now I have the smile I always wanted! Perfect result!
Dr. Krivitsky is a highly professional, knowledgeable and emotionally intelligent doctor. Rightly so, she made me feel confident and comfortable with all procedures. She patiently explained all steps and options. And I can't stress enough what an incredibly warm person she is. Never have I felt so taken care of by a doctor.
Dr. Krivitsky is so meticulous in her care, both before my wisdom teeth extraction and after. She always made sure everything was A-OK and explained her process thoroughly, making the procedure go by smoothly.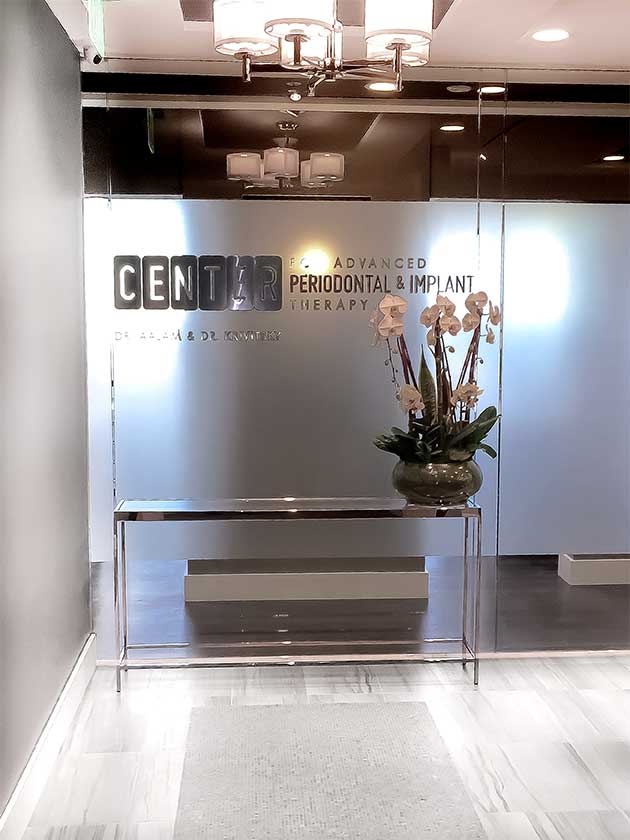 VISIT THE CENTER FOR ADVANCED PERIODONTAL & IMPLANT THERAPY
Virtual Brentwood Office Tour
GET TO KNOW OUR LA OFFICE!
GENTLE, AFFORDABLE & PAINLESS PERIODONTAL CARE in Los Angeles