Welcome to the
center for advanced periodontal & implant therapy Your #1 Choice for Periodontists in Los Angeles
Hours of Operation
Monday – Friday  8AM-5PM
Saturday – Sunday  CLOSED
Location
11620 Wilshire Blvd #718,
Los Angeles, CA 90025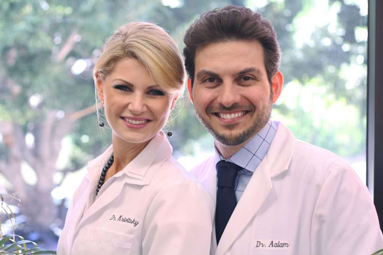 We are proud to offer the most advanced care from the only two dual board-certified periodontists in the Brentwood area. Dr. Alexandre Aalam and Dr. Alina Krivitsky utilize the most cutting-edge technology to ensure a safe, comfortable, and relaxing experience while achieving beautiful, healthy results. As the first periodontists in the United States to offer Advanced Platelet Rich Fibrin (APRF) treatments, Dr. Aalam and Dr. Krivitsky have access to the most effective regenerative therapies available for treating gum pockets, wisdom teeth removal, bone defects, tooth extractions, and more.
we provide life changing procedures
Our patients turn to us to help regain their abilities to smile with confidence, and go through life with ease and comfort. At the CENTER, we deliver life-changing results, one patient at a time! Hear what our patients have to say!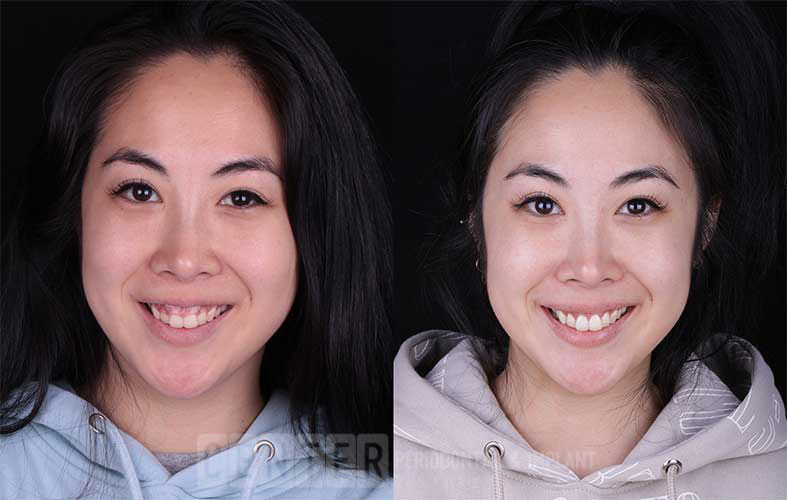 Dr. Aalam is caring, kind, and very concerned with your comfort level.
I was treated very well. Everyone was so nice and so comforting. Now I can eat cold or hot foods with no pain.
Dr. Aalam and all of the members of his team were very professional. The treatment that I got was very caring.
Dr. Aalam is by far the best dentist that I've ever been around. And I've been around a lot of them.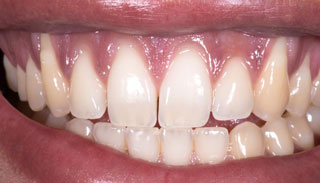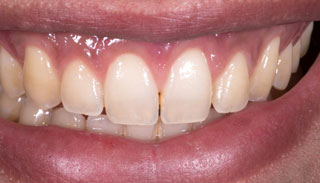 REJUVAGUM LIFT™
RejuvaGum Lift™ is an innovative procedure that uses advanced platelet-rich fibrin to regenerate receding gums without the need for an invasive gum graft. During a RejuvaGum Lift™ procedure, we process and use a small sample of a patient's own blood to not only facilitate healing, but to also regenerate areas affected by gum recession. Eliminating the need for tissue grafts also reduces the need for a more complex procedure, greatly reducing downtime in the process.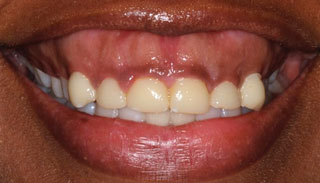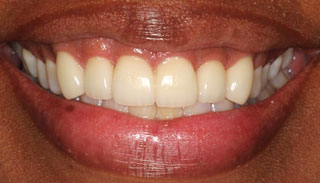 PERIODONTAL PROCEDURES AROUND THE TEETH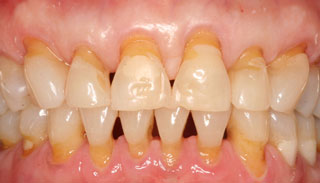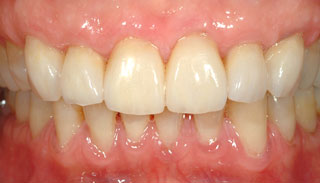 SMILE IMPROVEMENT PROCEDURES
Our cosmetic and corrective smile improvement procedures can transform your smile, improve your oral health, and increase your self-confidence. Gum grafts are a fantastic option for patients who want to restore a receding gum line, while gum depigmentation is an innovative periodontal procedure used to lighten dark gums. Root planning, periodontal scaling, and functional and aesthetic crown lengthening can also strengthen and rejuvenate the health of the gums, and improve an uneven gum line due to excess gum tissue.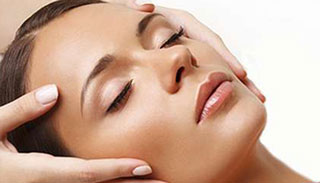 Sedation Dentistry
At the CENTER for Advanced Periodontal & Implant Therapy, we provide anesthesia and sedation techniques to minimize any dental anxiety and discomfort in order to make our patients' dental experience as stress-free and painless as possible.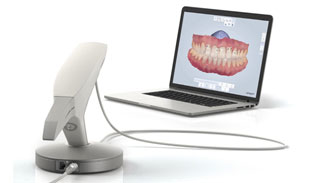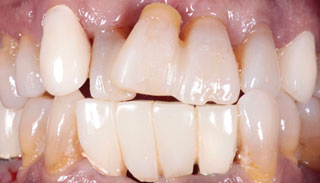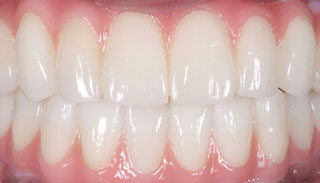 Dental Implants and Related Procedures
Looking for a permanent solution for damaged or missing teeth? Dental implants are a permanent way to restore beautiful, natural-looking teeth that are more cosmetically appealing than full or partial dentures. Your new tooth implant will blend in with the rest of your teeth, so you can show off a healthy smile with bright, even teeth.
Dental implants
Bone Grafting
Sinus Augmentation (Sinus Lift)
Our Periodontal Procedures
Frequently Asked Questions
Q: What is a periodontist?
A: Periodontists are experts in the prevention, diagnosis, and treatment of periodontal disease and in performing dental implant procedures. If you suffer from gum disease, struggle with maintaining optimal oral health, or are missing single or multiple teeth, a thorough assessment and careful diagnosis by a board-certified periodontist is necessary in order to resolve these issues and restore your smile.
Q: What type of procedures does a periodontist perform?
A: Periodontists are experts who specialize in and perform a wide range of procedures to treat gum disease, replace missing teeth, regenerate lost tissue and restore the supporting structures and underlying bone. Treatments for such conditions include scaling and root planing, non-surgical periodontal therapy, regenerative procedures, pocket reduction procedures, bone grafting, functional crown lengthening, and gum grafting. They are also experts at placing dental implants to replace missing or damaged teeth and can perform cosmetic procedures like gummy smile treatments as well.
Q: Is a periodontist expensive?
A: The cost of periodontal and oral surgery varies depending on the type of treatment required and the severity of the condition being treated. It is important to consult with a periodontist to receive a thorough analysis of your needs, to determine the best, a minimally invasive, comfortable and cost-effective treatment plan for you.
Q: How much do dental implants cost in Los Angeles?
A: The cost of dental implants varies based on the number of dental implants required, the type of dental implant chosen (zirconia or titanium), and if additional treatment such as bone grafting or gum grafting is required. In some cases, insurance may cover some of the costs of your periodontal surgery.
Q: Is it painful to get dental implants?
A: Mild discomfort is normal during the first few days following the dental implant procedure and can be managed with pain medication as recommended by your periodontist. Patients are put under IV Sedation, also known as twilight sedation, together with local anesthesia so that they do not feel or remember anything from the procedure, to create a more comfortable surgical and post-surgical experience.
Q: Can anybody have dental implants?
A: Dental implants are the ideal solution for replacing missing or damaged teeth. Some patients who experience bone loss are told they are not candidates for dental implants, however, this is most of the time incorrect. There are procedures to replace the missing bone and prepare the mouth for permanent dental implants, in addition to graftless dental implant treatments that utilize patients' existing bone density, such as the All-On-4 technique. Patients who suffer from the most extreme form of bone loss are also candidates for dental implants and can benefit from Zygomatic dental implants.
Q: What is the difference between a dentist and a periodontist?
A: A periodontist is a dental professional who specializes in treating issues related to the gums, underlying bone structures, and missing or damaged teeth. The cases they treat are more severe and require the skill of a specialist rather than a general dentist to perform various oral surgeries and non-surgical periodontal therapies to treat gum disease, bone loss, and place dental implants. Periodontists are trained in advanced surgical techniques such as periodontal plastic surgery and dental implantology. A Periodontist has 3 years of a extract full time training after dental school in an accredited school.
Q: Does a periodontist pull teeth?
A: Yes, a periodontist is trained in removing teeth. Although they are specially trained to save the tooth whenever possible, in the case of a damaged or diseased tooth, a periodontist can not only extract the damaged tooth but can treat the damaged gum tissue and bone, to stop the spread of periodontal disease and prepare the site for dental implant. Periodontists can also perform wisdom tooth removal surgeries.
Q: Do I really need dental implants?
A: We have more than 40 years of data in the literature showing a 93% success rate of titanium dental implants in the long term. The success rate depends on multiple factors such as patient health condition, oral hygiene and overall oral health maintenance.
Q: What is periodontal disease?
A: Periodontal is an inflammation of the gums caused by the bacteria found in plaque. It begins in its mildest form as gingivitis. Signs of gingivitis include gum tissue that has become sensitive, swollen and commonly bleeds when brushing and eating. When left untreated, the bacteria will continue to spread beyond the gum line, destroying the healthy gum tissue, and causing the gums to pull away from the teeth. When the diseased gum tissue detaches from the teeth and this space widens, periodontal pockets are formed creating an opportunity for bacteria to build up deep within the pockets and further penetrate the gums, eventually spreading to the underlying bone. When the bacteria wears away at the gum tissue and reaches the underlying bone, bone loss can occur. Dr. Aalam and Dr. Krivitsky are experts in performing surgical and non-surgical periodontal therapies to treat gum disease in an effective comfortable way, to restore patients' oral health.
Q: What does a gummy smile mean?
A: A gummy smile is a reference to when a person displays excess gum tissue when speaking and smiling. In some cases, a gummy smile is caused by excess gingival tissue that covers the teeth, causing them to appear shorter and child-like. In other cases the lip's natural positioning and movement of the upper lip muscle can expose the gums when speaking, creating the appearance of a gummy smile. Many patients report this makes them very self-conscious when smiling and hinders their confidence.
Q: What causes dark gums?
A: Gum color varies from person to person, however generally, healthy gums should be light pink in color and fit tightly around each tooth. Changes in gum tissue color can be caused by smoking, periodontal disease, or could be a sign of an underlying health issue, and should be checked by a periodontist. Some people produce higher levels of melanin and are naturally born with darker gums. For those born with black gums, gum lightening treatments such as gum depigmentation, are available to restore a natural, light pink color to the gum tissue.
Virtual Brentwood Office Tour
GET TO KNOW OUR LA OFFICE!
GENTLE, AFFORDABLE & PAINLESS PERIODONTAL CARE in Los Angeles