Meet Dr. Aalam and Dr. Krivitsky
#1 Rated Westwood Periodontists Office
The CENTER for Advanced Periodontal & Implant Therapy services the cosmetic and therapeutic periodontal needs of patients in the Westwood area. Offering state-of-the-art therapies in a comfortable, relaxing environment, our doctors strive to preserve each patient's oral health, function and aesthetics with a minimum of discomfort. Visit our board-certified periodontists today for a consultation.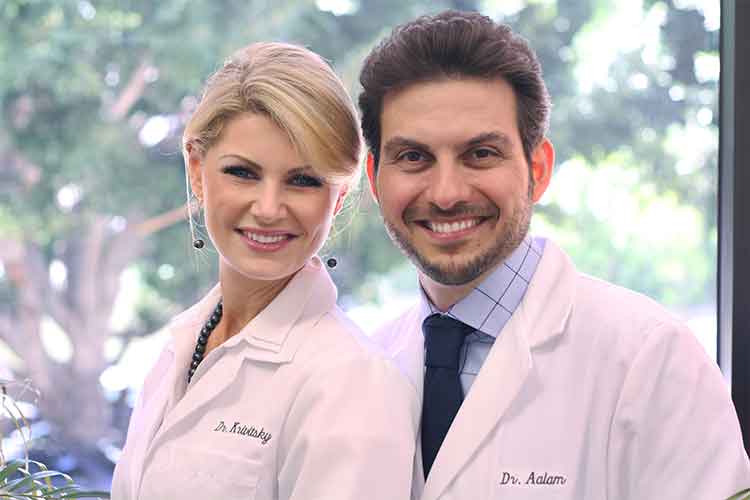 MEET WESTWOOD PERIODONTISTS, DR. AALAM AND DR. KRIVITSKY
As the only dual board-certified periodontists serving the Westwood area, Dr. Alexandre Aalam and Dr. Alina Krivitsky utilize cutting-edge technology and advanced techniques to provide rejuvenating, restorative and complete cosmetic dentistry in Westwood to help out patients establish beautiful, healthy smiles. Dr. Aalam and Dr. Krivitsky understand that the detrimental effects of improper oral health doesn't just affect the mouth, but can lead to serious issues with overall health. Gum disease has been linked to a number of health complications, including cardiovascular disease, kidney disease and cancer. It is imperative to schedule regular visits with your Westwood periodontist to prevent, diagnose and treat gum disease and any other issues with your mouth, teeth and gums that they might detect. Contact us today to schedule your visit with one of our Westwood periodontal experts.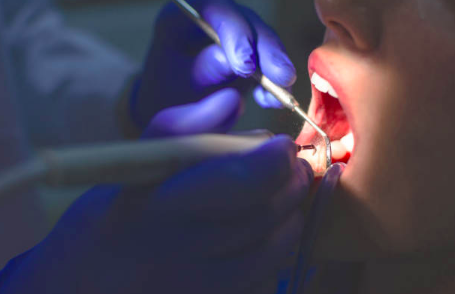 Dental Implants in Westwood
Periodontists are dental specialists who are experts in dental implant surgery. For patients who are missing single, multiple or the majority of their teeth, dental implants in Westwood are the ideal solution for permanently restoring the look and function of patients' teeth and smiles! Dental implants are titanium or zirconia posts that are placed in the jaw to replace the missing or extracted tooth roots, and support the permanent restorations, also known as artificial teeth. The dental implants procedure is a meticulous process that requires the expertise of a periodontist who is specifically trained in dental implantology and oral surgery.
A Westwood oral surgeon at the CENTER for Advanced Periodontal & Implant Therapy can provide patients with accurate diagnoses and personalized treatment plans for their specific dental implant needs.
Dental implants provide patients with life-changing results by permanently replacing lost or missing teeth, transforming their oral health and restoring their confidence when smiling. Dental implants are an ideal alternative to dentures and stay plates, because they permanently replace the teeth with artificial teeth that look, feel and function just like real teeth. Dental implants are a comfortable and permanent way to rejuvenate your smile. Westwood dental implants provide patients the comfort and confidence to go through life with ease.
At the CENTER for Advanced Periodontal & Implant Therapy Dr. Aalam and Dr. Krivitsky strive to ensure each patient receives the best in periodontal care and treatment, through comprehensive, gentle and effective periodontal procedures. Your trusted Westwood periodontist with thoroughly analyze your unique dental implant case to determine the best treatment plan for you. Each patient has a distinct set of needs, and no two patients can be treated with the same treatment plan. Dr. Aalam and Dr. Krivitsky understand the complexity of the mouth, oral structures and gums, and consider factors like lifestyle when determining the best course of action for each patient.
Some patients require additional dental work in Westwood, due to the unique nature of their case, or because of their lifestyle for example where they cannot afford the time lost due to extended healing times. In order to experience dental implant success, your Westwood periodontist must properly diagnose you. During your initial consultation, your periodontist in Westwood will discuss your periodontal needs and the issue at hand, complete an oral exam, take x-rays and thoroughly take the time to address your questions or concerns. Depending on what they conclude, they will create a treatment plan best suited to help you restore your smile, oral health and confidence! In the case of dental implants, there may be a need for other treatments in addition to the dental implant surgery in Westwood. Some pre-treatment procedures include gum grafting, bone grafting, sinus lift surgery or a deep cleaning. Regardless of the treatment needed, Dr. Aalam and Dr. Krivitsky are expert Westwood periodontists who are committed to providing cutting-edge, gentle and effective complete restorative treatments, dental implant surgery and cosmetic dentistry in Westwood.  
Dr. Aalam and Dr. Krivitsky perform both therapeutic and cosmetic periodontal procedures to preserve oral form and function and give patients the beautiful, long-lasting smiles they desire. Periodontal procedures to preserve the health of teeth and gums include:
Periodontal procedures designed to improve the appearance of the smile include:
For information about these or other procedures offered at the CENTER, don't hesitate to schedule an appointment.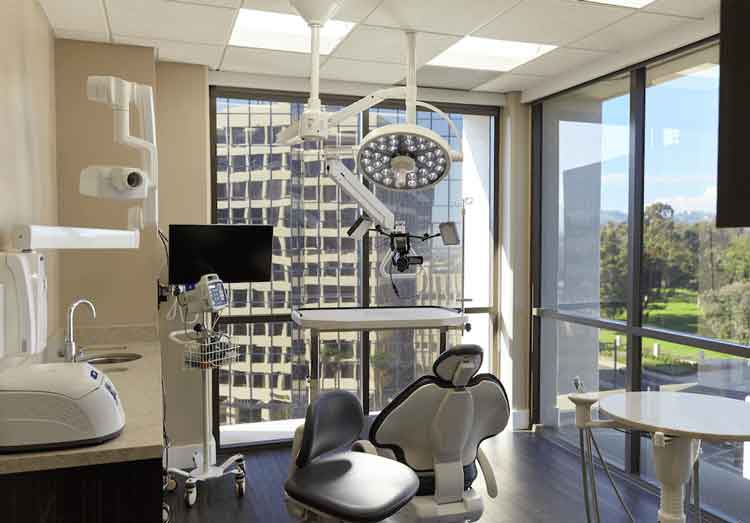 WHAT OUR WESTWOOD PATIENTS ARE SAYING…
Read testimonials from some of Dr. Aalam and Dr. Krivitsky's satisfied patients:
I was really nervous because I had been to some dentists that had horrible bedside manner and treated my teeth poorly. That was certainly not the case with Dr. Aalam. I ended up needed my wisdom teeth and another tooth removed and he was so nice and accommodating and his work was amazing. I feel no pain on the tooth which I originally scheduled the appointment for. 
When I was told I needed a bone graft, I was super freaked out, but I felt a lot better after discussing all options and the procedures with Dr Krivitsky.  I was so happy that we tried a super deep cleaning first and that the doctors didn't go straight for an invasive procedure. It actually worked and I got 20-30% of the depth back of my trouble spot.
The level of care, bedside manner, attention to detail and all of the staff are top notch.  The office staff is so warm and inviting and although no one likes going through dental work of this nature, my visit strangely had the vibe of a spa appointment. The office is beautiful, clean and very comfortable as well. You can tell the second you walk through the door that this practice has paid attention to every little detail from decor to your medical needs.  I believe this correlates with intelligence and skill, which is exactly what I found at this practice.
Dr Krivitsky successfully repaired an obliterated infected sinus communication on the same day as a new patient and emergency visit. Dr Krivitsky uses the latest technology in order to produce a non-invasive, successful result.  I can't tell you how grateful I am to her for healing me. On top of her incredible talent and skill is her intelligence and chair side manner. I cannot recommend Dr Krivitsky highly enough.
Before And After Photos
Check out this amazing before and after photo of a patient who transformed their smile with gum depigmentation in Westwood, Los Angeles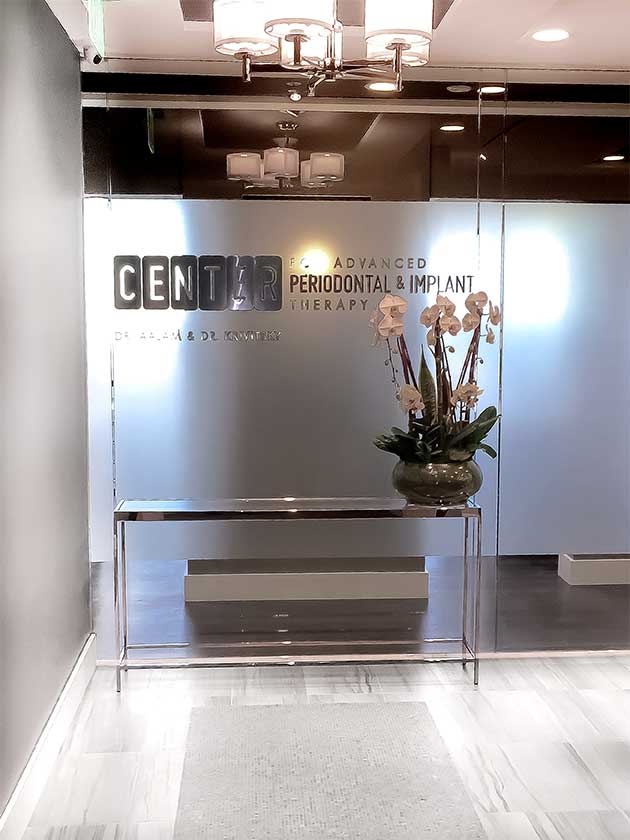 VISIT THE CENTER FOR ADVANCED PERIODONTAL & IMPLANT THERAPY
Browse our website for more incredible before-and-after periodontal surgery images, or schedule a consultation with Dr. Aalam and Dr. Krivitsky by calling (310) 826-8242.
Virtual Brentwood Office Tour
GET TO KNOW OUR LA OFFICE!
GENTLE, AFFORDABLE & PAINLESS PERIODONTAL CARE in Los Angeles