Why Choose US As Your Los Angeles Periodontists?
Deciding on who to trust with your oral health can be a big decision. An individual's oral health is not solely limited to his or her mouth, but actually affects overall health as well. Most patients automatically think of going to their local dentist when dealing with mouth issues, but often their mouths need the specialized care of a periodontist. Unlike dentists, periodontists specialize in working with the mouth's soft tissue (i.e., gums) and bone.
Surgical procedures are not "one size fits all" solutions and having the right periodontist can mean the difference between a successful or failed treatment.
Choosing a periodontist is the most important decision you'll make after deciding to undergo treatment. The surgeon's skill, experience, and credentials should be taken into account before committing to any procedure.  It is also important to find a periodontist who listens to you to understand your individual needs and goals, and who you feel comfortable communicating with throughout the entire treatment process.
We are experts in our field
We accurately diagnose conditions the first time and provide tailored treatments to suit every patient's individual case
We offer a friendly, relaxed environment and a thorough explanation of your condition
We utilize cutting-edge and noise canceling technology to provide you with the most comfortable experience
We provide anesthesia and sedation techniques that make your experience easy and painless
We offer holistic alternatives in order to cater to our patients' unique needs
We use the best dental implants and dental materials on the market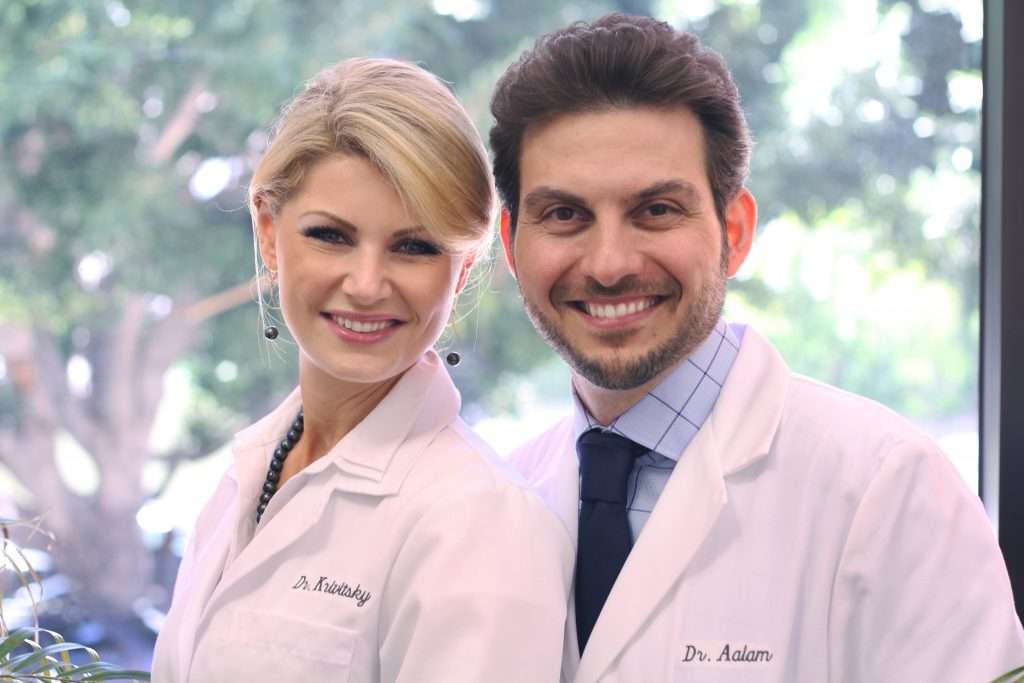 Alexandre-Amir Aalam, DDS, and Alina Krivitsky, DDS
, are here to help. This husband-and-wife periodontal team operates out of the only periodontal office in Brentwood and has the experience necessary to treat anyone's oral problems. They have helped thousands of patients improve their mouths' functionality and aesthetics. Contact their office today at
310-826-8242
to schedule an appointment with the best periodontists in Brentwood or to learn more about the various periodontal procedures performed at their center.
Level of Care
You have to be completely comfortable with your periodontist so that you can proceed with your procedure with confidence. You should have the opportunity to have a face-to-face meeting with the surgeon, have the opportunity to express your concerns, and then have the procedure explained to you thoroughly. Most importantly, you should never proceed with a surgical procedure until you have all of your questions answered.
Thorough thorough communication and a commitment to providing excellence in care, Dr. Aalam and Dr. Krivitsky strive to ensure that their patients understand the treatment process, are comfortable throughout their experience and are confident with the results of their procedure!
QUALIFICATIONS
Both Dr. Aalam and Dr. Krivitsky are the ONLY diplomats of the American Board of Periodontology in Brentwood, CA.
A Diplomate is a periodontist who has made significant achievements beyond the mandatory educational requirements of the specialty and who is certified by the American Board of Periodontology.
To be educationally qualified for Board certification requires:
Certification as a dentist, including basic college education and completion of dental school to earn the D.D.S. or D.M.D. degree and;
Certification as a periodontist after successful completion of an educational program in Periodontology, which is accredited by Commission on Dental Accreditation of the American Dental Association.
Comprehensive qualifying and oral examination covering all phases of periodontal disease and its treatment, including dental implants.
Recertification every six years.
Dr. Aalam is also a Diplomate of the American Board of Oral Implantology.
Your skillful Brentwood periodontists are dedicated to their craft and have been perfecting their practice for over 20 years. Abreast of all the latest advances in periodontics, Dr. Aalam and Dr. Krivitsky continue advancing their education year after year, by serving as clinical Professors of Dentistry at the University of Southern California, contributing to the field through ongoing research, and teaching globally on the developments in periodontology and teaching other dental surgeons.
Your Los Angeles periodontists, Dr. Aalam and Dr. Krivitsky have been involved in academia for the last decade by serving as faculty in the department of advanced periodontics at the Ostrow School of dentistry of USC where they have been instrumental to the advanced training of graduating specialist. They contribute continuously to the field by lecturing and publishing in the filed of periodontology and implantology.
See their bio pages for a list of their honors, awards, publications, and presentations.
Virtual Brentwood Office Tour
GET TO KNOW OUR LA OFFICE!
GENTLE, AFFORDABLE & PAINLESS PERIODONTAL CARE in Los Angeles