Brentwood Glen Periodontists
Meet Dr. Aalam and Dr. Krivitsky
Meet Your Experienced Brentwood Glen Periodontists
Dr. Aalam and Dr. Krivitsky are the only dual-board certified periodontists near Brentwood Glen, Los Angeles. The husband and wife team proudly serve the Brentwood Glen area and surrounding neighborhoods, including Brentwood Park, Westwood, Pacific Palisades and Mar Vista. At the CENTER for Advanced Periodontal & Implant Therapy our board-certified Brentwood Glen periodontists are committed to an excellence in care, and work to provide each and every patient with cutting edge periodontal treatment, using state-of-the-art technology for life changing results. Your expert periodontist in Brentwood Glen understands that no two cases are alike, and thoroughly assesses each patient, to provide them with an accurate diagnosis, and personalized treatment plan that best fits their needs, preferences, and budget, to ensure they receive the best in periodontal care and treatment. To set up your periodontal consultation with a Brentwood Glen periodontist, contact us today!
A healthy smile begins with healthy gums. Healthy gums should be light pink in color, and fit tightly around each tooth, with only about 1-3 mm of space. When gums become inflamed, swollen, tender or red in color, it is likely a sign of gum disease. Gingivitis is the mildest form of gum disease, and is most commonly marked by signs of puffy, sensitive gums, that bleed when brushing or flossing. Periodontal disease, also known as gum disease, is a very common occurrence in Americans. Nearly 65 million Americans suffer from gum disease annually. Gum occurs when the bacteria found in plaque builds up beneath the gums. The buildup can ultimately lead to infection, worn gum tissue, bone loss, and in extreme cases, could cause your teeth to loosen and fall out!
If left untreated, gum disease can worsen to severe periodontitis, which can lead to decay and infection of the gums, and cause the supporting bone to deteriorate, also known as bone loss. If detected early on, gum disease can be reversed if treated properly. In more extreme cases, we offer both surgical and non-surgical periodontal therapies to rejuvenate the teeth and gums and treat periodontal disease to help patients achieve optimal oral health. If you suffer from periodontal disease, it is imperative to seek treatment from a Brentwood Glen periodontist, to remove the infection and restore proper oral health.
Because gum disease can be heavily attributed to your lifestyle and habits, it's crucial to implement healthy eating and proper oral hygiene into your daily routine. Through proper oral hygiene, including brushing twice a day, flossing, using mouthwash, and going in for regular checkups and cleanings with your periodontist, maintaining healthy gums should be easy!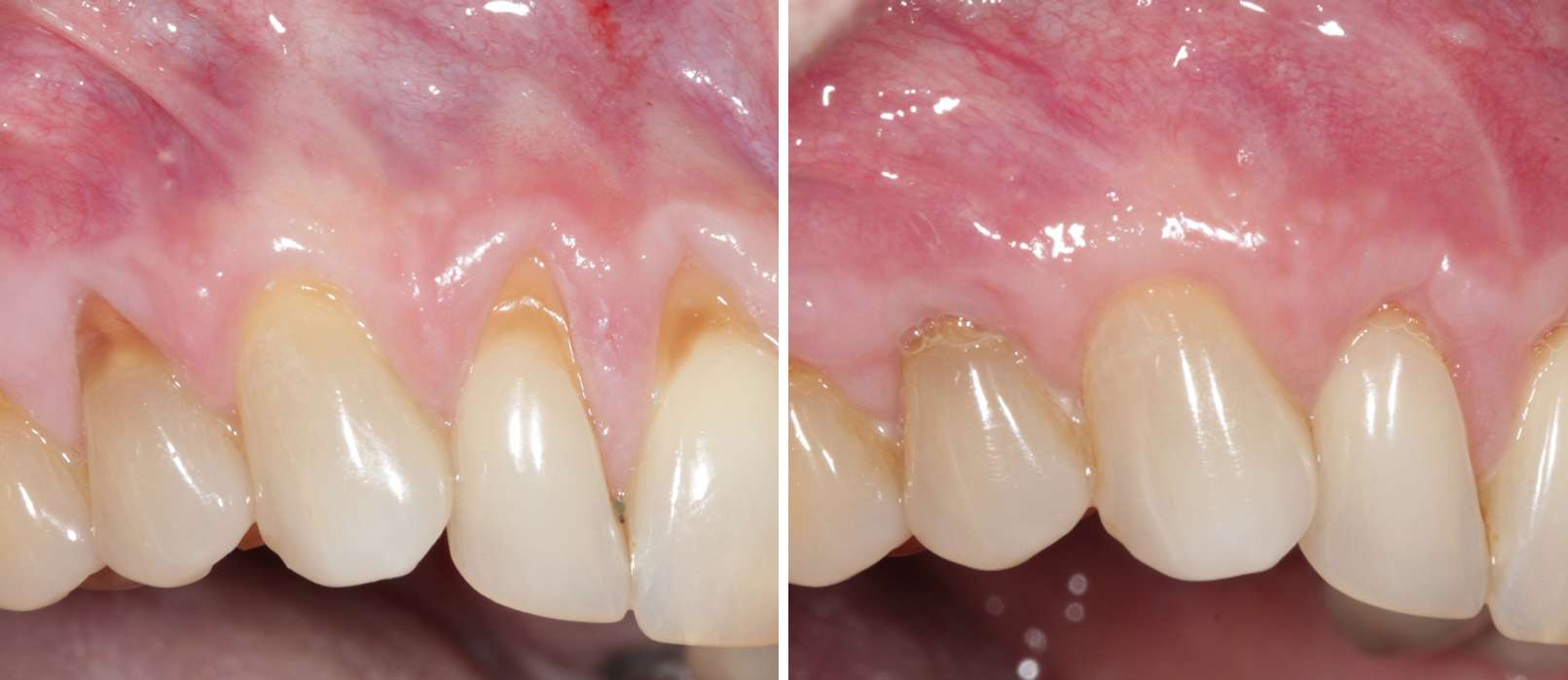 Gum Recession Treatment in Brentwood Glen
Gum recession is one of the most common side effects of periodontal disease. As the bacteria continues to spread below the gumline, it can cause the teeth to wear away. As a result, the tooth roots are exposed affecting both the aesthetics and functionality of his teeth. Longer gums create an aged and unhealthy appearance, and can hinder one's confidence when smiling if they are not happy with the aesthetics of their smile. It also causes sensitivity to hot and cold foods, and compromises oral health as patients with gum recession in Brentwood Glen are more susceptible to developing decay, This condition where the gums recede and expose the tooth roots is fairly common and can be treated in several ways.
When a patient experiences gum recession, typically they are treated with a gum graft, which uses tissue taken from a different part of this patient's mouth, most commonly the roof of the mouth, to cover exposed tooth roots and restore an even gum line. Soft tissue grafting in Brentwood Glen is a more invasive treatment that yields longer and more painful recovery times. At the Center for Advanced Periodontal and Implant Therapy, Dr. Aalam and Dr. Krivitsky, are the first periodontists to treat patients with the Rejuvagum Lift near Brentwood Glen.
The board-certified periodontists in Brentwood Glen, founded the revolutionary treatment that utilizes PRF, also known as Platelet Rich Fibrin, which is developed using a patient's blood sample. With the help of advanced technology, our Brentwood Glen periodontists are proud to offer patients an alternative to traditional gum grafting. The Rejuvagum Lift is a graftless treatment that regenerates lost tissue using Platelet Rich Fibrin. A sample of the patient's blood is drawn and spun in a centrifuge to extract regenerative growth factors from the blood such as platelet-derived growth factors (PDGF) to naturally help restore tissue, and increase the body's healing abilities. The PRF is inserted into the gums above the recession to regenerate the lost tissue, increase healing abilities, eliminate the risk of tooth decay and restore a healthy, even gumline!
To learn more about this alternative to gum graft surgery in Brentwood Glen, please contact us to set up your periodontal consultation with a Brentwood Glen periodontist today!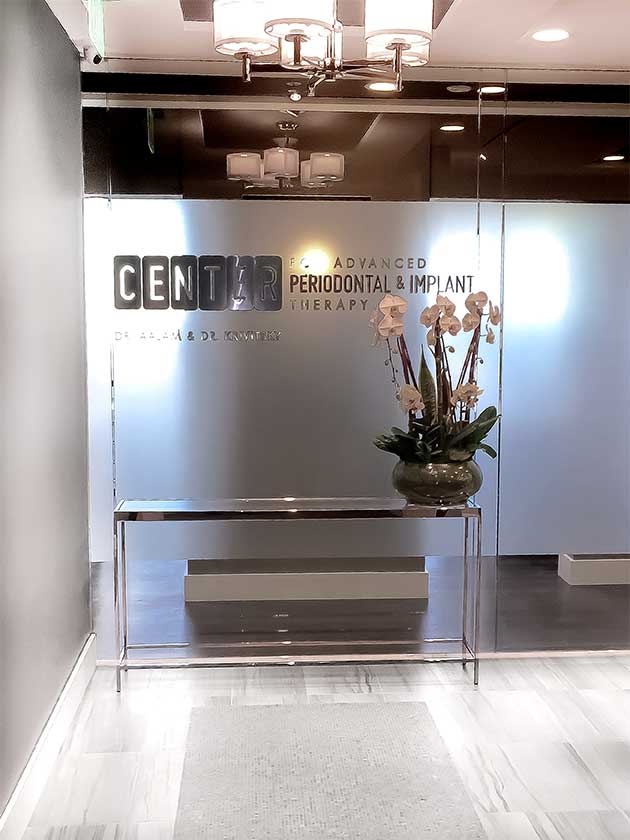 VISIT THE CENTER FOR ADVANCED PERIODONTAL & IMPLANT THERAPY
Virtual Brentwood Office Tour
GET TO KNOW OUR LA OFFICE!
GENTLE, AFFORDABLE & PAINLESS PERIODONTAL CARE in Los Angeles