Meet Dr. Aalam and Dr. Krivitsky
Expert Care at Our Mar Vista Periodontist Office
The CENTER for Advanced Periodontal and Implant Therapy is the only dual-board certified periodontal office near Mar Vista, Los Angeles. Dr. Aalam and Dr. Krivitsky are board-certified periodontists in Mar Vista, who offer patients the best in periodontal care. Our Mar Vista periodontists understand the importance of oral health and its effects on overall health, and work with patients who suffer from gum disease and subsequent issues with the teeth, gums and supporting structures, to create personalized treatment plans to address their specific needs. A periodontist in Mar Vista can help you transform your oral health and restore your confidence when smiling! Contact us today to schedule your consultation with our periodontists in Mar Vista.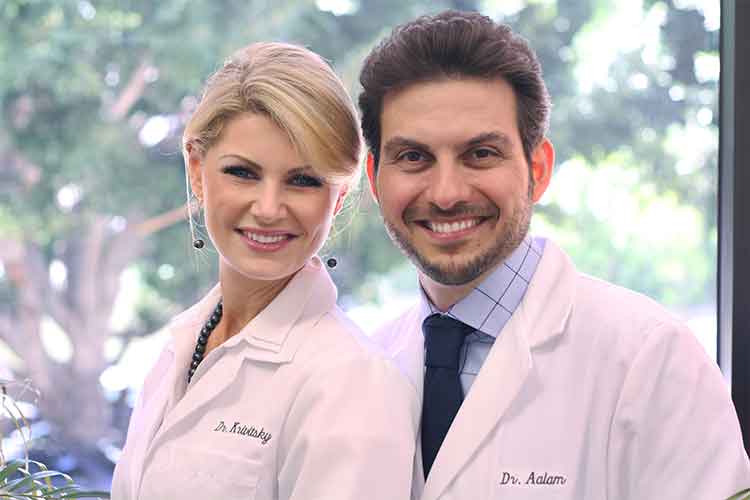 Your trusted Mar Vista PERIODONTISTS,
DR. AALAM AND DR. KRIVITSKY
A periodontist is a dental professional who has received additional education and training to treat issues associated with the gums, underlying supporting structures, and missing or damaged teeth. A periodontist near Mar Vista can treat cases that are more severe than what a general dentist is trained to treat. Periodontists are trained in advanced surgical techniques such as periodontal plastic surgery and dental implantology. These types of oral surgeries and restorative periodontal therapies require the skill of a dental specialist in Mar Vista. Because of the level of training and experience periodontists receive, they are are skilled at treating patients who experience a wide range of oral complications including gum disease, gum recession, tooth decay, missing teeth, and bone loss. For patients who suffer from these types of issues, a periodontal specialist in Mar Vista can provide an expert diagnosis and personalized treatment plan to help you restore your oral health, and rejuvenate the functionality and aesthetics of your smile.
GUM DISEASE PREVENTION IN MAR VISTA
A periodontist near Mar Vista can help you restore your oral health if you suffer from gum disease. As experts in the prevention, diagnosis, treatment and treatment of gum disease, Dr. Aalam and Dr. Krivitsky offer a range of surgical and non-surgical therapies to treat gum disease, as well as the damage gum disease causes in the mouth, at their periodontal practice near Mar Vista. Gum disease begins in it's mildest form as gingivitis, which is an inflammation of the gums. Most notably, patients who suffer from gingivitis experience swollen, tender and painful gums that bleed when brushing and flossing. Periodontal disease is treatable, and reversible, but requires the help of a periodontist in Mar Vista to restore complete oral health. To prevent gum disease, it is imperative to practice proper at home oral care, which includes brushing your teeth twice a day, flossing nightly, and visiting your Mar Vista periodontist for regular checkups and cleanings. If you do not implement a proper oral hygiene routine, periodontal disease can develop and worsen over time. As the bacteria found in plaque accumulates, it will harden and turn into tartar, also called calculus, which is a solid, calcified deposit that can buildup above and below the gum line. Brushing your teeth twice daily is important for removing plaque from the teeth and stopping the formation of tartar. However, if tartar does form, only a trained dental specialist near Mar Vista can remove it. The process of removing tartar is called scaling, during which a special tool is used to clean the tartar from the teeth and remove it from the gumline. If left untreated, the bacteria buildup will continue to spread below the gumline, causing the gums to loosen from the tooth, creating periodontal pockets. Healthy gum tissue is light pink in color, and should fit tightly around each tooth. The healthy range of space between each tooth and the gum around it should be no more than 1-3 millimeters. Your dental hygienist in Mar Vista will be able to examine your gums to determine the space between the teeth and gums. These measurements can change for better or worse over time, which is why maintaining a proper oral healthcare routine at home, along with regular dental cleanings are imperative to ensuring your oral health. If periodontal disease is not treated and continues to worse, it can eventually spread to the underlying bone and cause bone loss in the supporting bone structures.
There are several types of non-surgical, restorative periodontal therapies that can be performed by a board-certified periodontist in Mar Vista. For patients who suffer from gum damage and require treatment, a Mar Vista periodontist can provide and accurate diagnosis and create a treatment plan that is personalized to meet your needs. To set up your periodontal consultation with one of our Mar Vista periodontists, contact us today!
WHAT OUR MAR VISTA PATIENTS ARE SAYING…
Patients trust Dr. Aalam and Dr. Krivitsky to provide expert, personalized care in a spa-like environment:
I had a fantastic experience with Dr Aalam and his staff! I needed gum surgery and the experience was more than I could have imagined in the best way possible! The Doctor explained in detail the procedure and was very patient and kind explaining everything to me in detail. I recommend Doctor AALAM whole heartedly! A shout out to his kind and his professional staff!!
Dr. Aalam is the most amazing doctor. He is very professional, skilled, compassionate and truly cares about his patients. Prior to knowing Dr. Aalam, I had another doctor who messed me up with the implants and caused severe infection. Dr. Aalam treated the infection and saved me. He later placed implants for me with no problems at all. He is my favorite doctor. I highly recommend him.
Dr. Aalam has the BEST bedside manner. I was concerned about chronic gum bleeding and not only did he coordinate with my dentist on a remedial regiment, but he was also so kind and supportive. He honestly makes me feel like I'm his favorite patient every time I see him. The office is really nice, really clean, the staff is great.
Would definitely 10/10 recommend Dr. Aalam for anyone seeking gum recession treatments. On top of the great location and facilities here, the procedure Dr. Aalam performed had great results! He is professional and very friendly during every visit, and all the staff are very helpful with every step of the treatment.
Before And After Photos
Take a look at this aesthetic crown lengthening before-and-after photo from a patient treated at Implant Perio CENTER.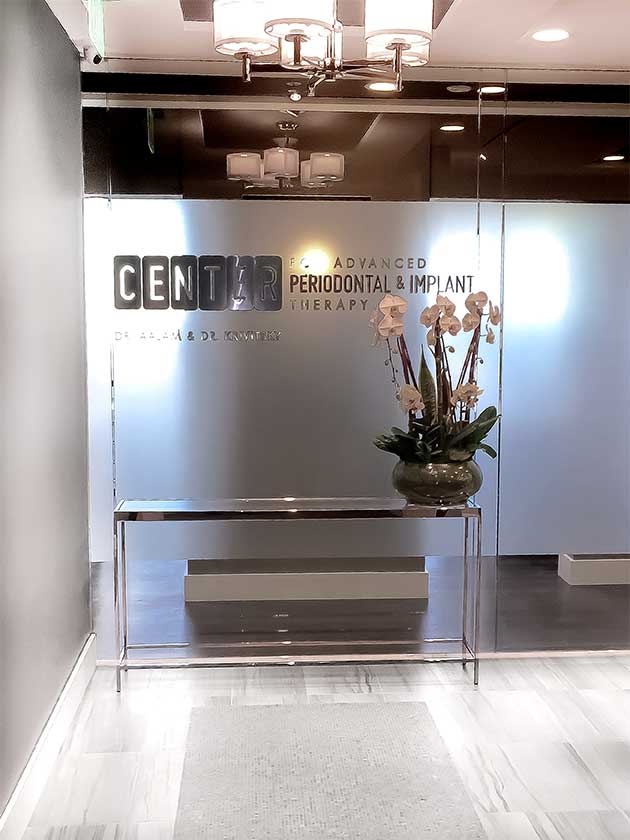 VISIT THE CENTER FOR ADVANCED PERIODONTAL & IMPLANT THERAPY
Virtual Brentwood Office Tour
GET TO KNOW OUR LA OFFICE!
GENTLE, AFFORDABLE & PAINLESS PERIODONTAL CARE in Los Angeles