Beverly Hills Periodontists & Dental Implants Dentist, Ranked #1 for overall customer care
Meet Dr. Aalam and Dr. Krivitsky
Dr. Aalam and Dr. Krivitsky are the only dual board-certified periodontists near the Beverly Hills area. At the CENTER for Advanced Periodontal & Implant Therapy, our Beverly Hills periodontists offer restorative and cosmetic dental treatments and dental implants in Beverly Hills, helping our patients achieve healthy, beautiful smiles. Our periodontists are committed to rejuvenating patient's smiles and restoring their oral health through professional periodontal care. When experiencing significant health complications with your teeth, gums or jawbone, it is important to opt for treatment from a periodontal expert who has a breadth of knowledge and experience. Schedule your next visit for a periodontal consultation with our Beverly Hills periodontist today!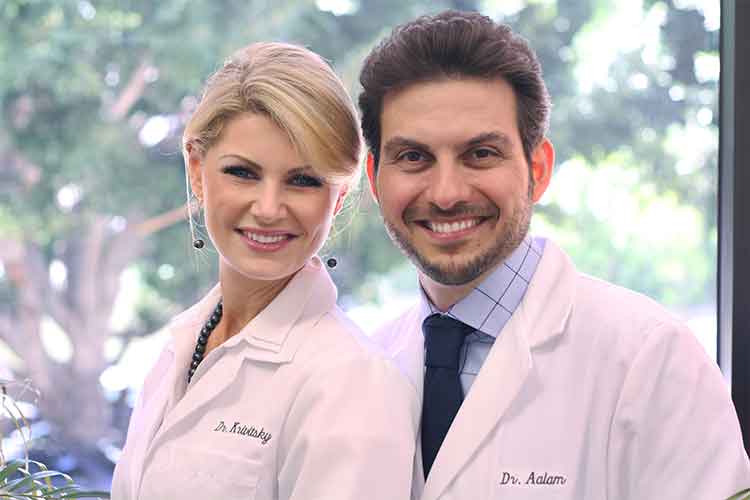 MEET BEVERLY HILLS PERIODONTISTS, DR. AALAM AND DR. KRIVITSKY
Southern California periodontists located near Beverly Hills, Dr. Alexandre Aalam and Dr. Alina Krivitsky strive to ensure each patient receives only the highest standard of periodontal care. Utilizing advanced technology and cutting-edge techniques, we offer comprehensive periodontal treatment and tooth replacement options to help our patients restore their oral health and function. Both Beverly Hills periodontists are board certified by the American Board of Periodontology and the American Board of Oral Implantology, and diligently work to serve the Beverly Hills area, and surrounding cities including Brentwood, West Hollywood, Westwood, Culver City and Venice. Because periodontists are dentists who specialize in treating issues with the gums and supporting tooth structures, as well as dental implant surgery, patients who experience inflammation or infection of their gums, tooth loss or other complications with their natural teeth, can rely on the expertise of an experienced skilled periodontist in Beverly Hills to help restore the health, function and appearance of their natural teeth and gums.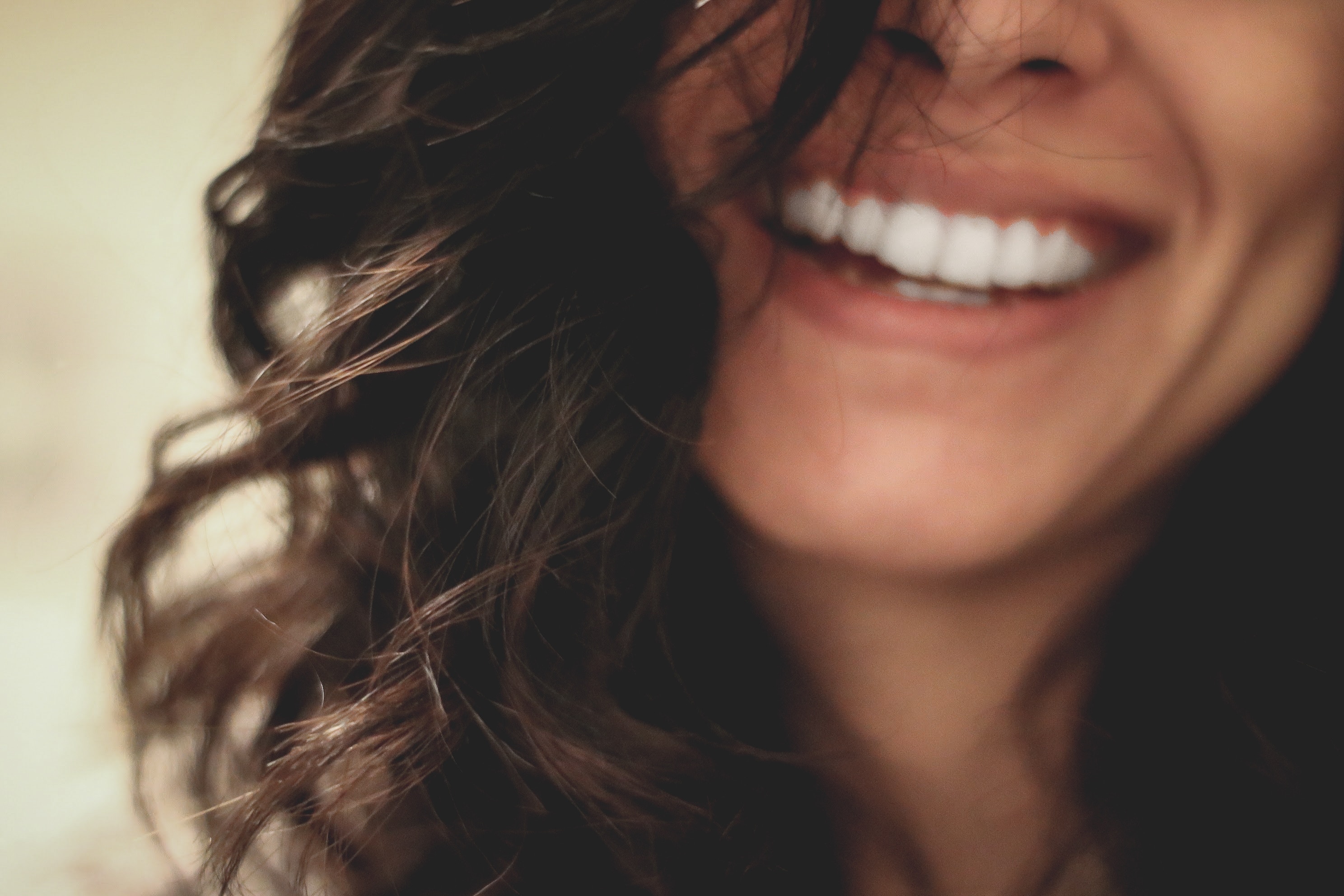 Gum Disease Treatment from Beverly Hills Periodontist
There is nothing more beautiful than a healthy smile! A healthy smile begins with healthy gums and an excellent oral health care routine to ensure that your gums and teeth are receiving the right at-home care. But it also requires regular check-ups with a periodontist to make sure that your gums, teeth and supporting structures help keep your beautiful smile healthy. Because a periodontist is a specialized dentist, it is important that you seek the professional, expert treatment for your dental care near you, to ensure your periodontal needs are being cared for. A periodontist can help to diagnose periodontal disease, and offer the best care and periodontal treatment in Beverly Hills that will restore your healthy gums and help you fend off gum recession and reverse gum disease based on your specific needs.
Periodontal disease is caused by bacteria that builds up in the mouth and affects the gums. The mildest form of periodontal disease begins as gingivitis. Gingivitis causes an inflammation of the gums, sensitivity, and bleeding when brushing. Gingivitis treatment in Beverly Hills CA is available, and if diagnosed early on, it can even be reversed. If you experience symptoms of gum disease, it is important to see a highly recommend Beverly Hills periodontist to diagnose and treat periodontal disease before it spreads. If left untreated, periodontal disease can spread below the gum line, causing the gum tissue to pull away from the teeth and creating periodontal pockets. When bacteria builds up within these pockets, it will wear away the gum tissue, causing gum recession, and will eventually reach the supporting bone and cause bone loss which can lead to missing teeth and the eventual need for bone grafts and dental implants
Located just a short drive from Beverly Hills, the CENTER for Advanced Periodontal & Implant Therapy is your source for therapeutic and aesthetic periodontal disease treatment including the following:
Dr. Aalam and Dr. Krivitsky are proud to offer many of the above procedures with parenteral IV sedation. Not only does sleep dentistry ensure patient comfort, but it also minimizes surgery times and results in less pain during the recovery period. If you would like more information about our periodontal treatments, feel free to schedule an appointment with our specialists.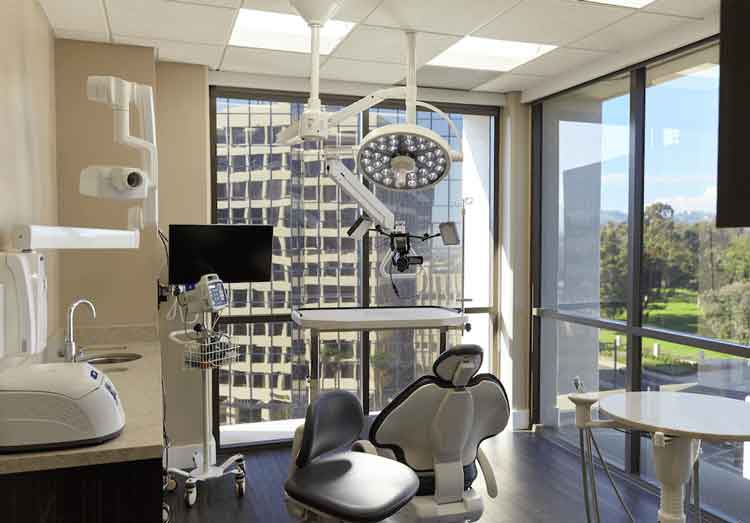 WHAT OUR BEVERLY HILLS PATIENTS ARE SAYING…
Words cannot express how wonderful the doctors are! Dr. Krivinsky did wonders on my gums and helped my recession improve 150%. They have a new beautiful office and their service and professionalism surpasses any other doctors office I've ever been to. I truly thank them for a job well done.
All of the staff is very kind and professional. Dr. Aalam made me feel comfortable and calm prior to, during, and well after my surgery. I absolutely despise anything involving knives and needles but they really put my fears at ease and made this the most pleasant medical experience I've ever had.
I am beyond impressed with the service and genuine care that Dr. Krivitsky and Dr. Aalam provided before, during and after my visit. They made the process of removing my wisdom teeth quick and painless. Everything from the procedure to the excellent service which started from the booking of the appointment and lasted all the way through recovery. I can't rave enough about how kind and professional these two doctors are. Its rare to have a service where the provider genuinely cares about your well being!
I was referred to Dr. Aalam for bone graft and implant. My front tooth had to be removed in order to place an implant. He did the extraction and bone graft so beautifully and painlessly. Thank you for making my periodontal experience so pleasant.
Before And After Photos
Take a look at this incredible before-and-after photo of a patient who underwent cosmetic gum depigmentation with Dr. Aalam and Dr. Krivitsky.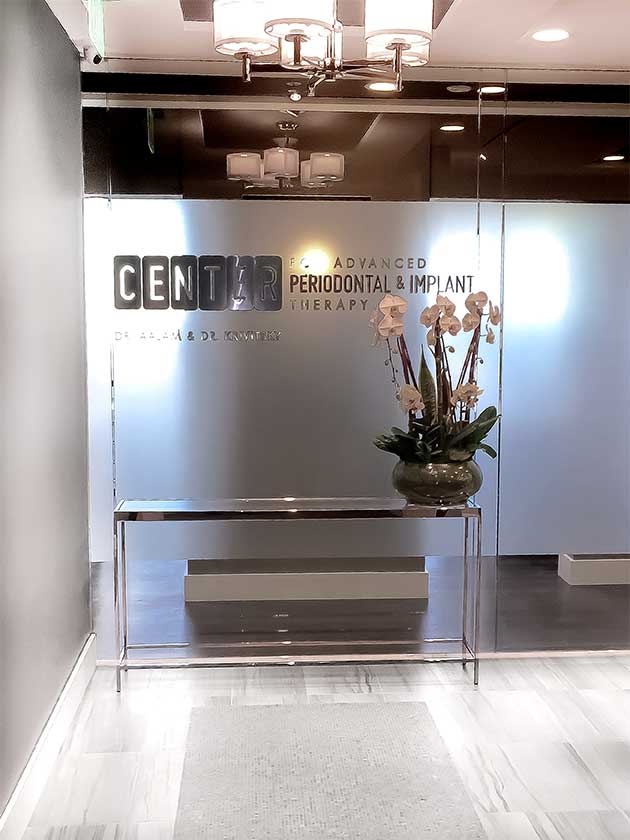 VISIT THE CENTER FOR ADVANCED PERIODONTAL & IMPLANT THERAPY
About Beverly Hills, CA
Beverly Hills is a city in California's Los Angeles County. Home to many Hollywood stars Beverly Hills CA 90210, features the upscale shopping street of Rodeo Drive. The expansive Beverly Gardens Park has fountains and rose gardens, plus an illuminated Beverly Hills sign . Elevation: 259′ Area: 5.71 mi² with a population of 34,186 as of 2019.
Top sights in Beverly Hills:
Rodeo Drive, Los Angeles County Museum of Art, Greystone Mansion, and The Beverly Hills Hotel.
If you are looking for a highly recommend Beverly Hills periodontist who can help you maintain healthy gums, fix your missing teeth, place implants, gum grafts and tissue grafts and minimize further complications contact us today.
Driving directions from Beverly Hills, CA
Our office is located at11620 Wilshire Blvd # 718, Los Angeles, CA 90025
Head northwest on N Rexford Dr toward N Santa Monica Blvd
Turn left at the 1st cross street onto N Santa Monica Blvd
Continue straight to stay on N Santa Monica Blvd
Turn right onto Wilshire Blvd
Turn left onto Barry Ave
Arrive at the CENTER for Advanced Periodontal & Implant Therapy
People also ask about Beverly Hills:
Is Beverly Hills expensive to live?
Beverly Hills's housing expenses are 533% higher than the national average and the utility prices are 8% higher than the national average. Transportation expenses like bus fares and gas prices are 31% higher than the national average. Beverly Hills has grocery prices that are 12% higher than the national average.
Is Beverly Hills dangerous?
Beverly Hills boasts a low violent crime rate, yet a somewhat high property crime rate of 52.30 per 1,000, perhaps due its famous populace drawing in a negative element that increases the frequency of home invasion.
Is Beverly Hills a rich area?
Beverly Hills Flats is considered one of the most affluent areas in L.A. and largely consists of luxury family homes, sprawling estates, and mansions. With incredible weather and unbeatable views of the Pacific Ocean, it's easy to see why Malibu is a coveted (and expensive) place to live.
Virtual Brentwood Office Tour
GET TO KNOW OUR LA OFFICE!
GENTLE, AFFORDABLE & PAINLESS PERIODONTAL CARE in Los Angeles