Crestwood Hills

Periodontists
Meet Dr. Aalam and Dr. Krivitsky
Meet Your Certified Crestwood Hills Periodontists
Dr. Aalam and Dr. Krivitsky are the dual-board certified Crestwood Hills periodontists of the CENTER for Advanced Periodontal and Implant Therapy. The husband and wife team proudly serve the Crestwood Hills neighborhood and surrounding areas as periodontists near Santa Monica, Brentwood, Westwood, Westwood Village, Brentwood Park and the Pacific Palisades. As your trusted Crestwood Hills periodontist, both Dr. Aalam and Dr. Krivitsky are committed to providing patients with cutting-edge periodontal treatments, to help restore the aesthetics, function and health of their smiles. A periodontist experts, Dr. Aalam and Dr. Krivitsky specialize in dental implant surgery in Crestwood Hills and  in the prevention, diagnosis and treatment of periodontal disease. If you experience issues with your gums, or are missing single or multiple teeth, contact us today to set up your periodontal consultation.
Your oral health affects so much more than just your smile. A dazzling smile begins with healthy gums and the right at-home oral hygiene routine for teeth. This includes brushing your teeth twice a day, flossing nightly, and enhancing your diets with foods that prevent gum disease. However, these steps are not only important for maintaining a picture-perfect smile, but for ensuring overall health. Did you know gum disease has been connected to causing diabetes, heart disease and strokes? Remember, oral health is overall health, so be sure to care for your gums and teeth! 
Periodontal disease, also known as gum disease affects nearly 65 million Americans every year. It begins as an inflammation of the gums, and can progress to periodontitis that causes gum recession, bone loss, and tooth loss. Understanding that untreated gum disease can lead to more serious conditions like heart disease and diabetes, Dr. Aalam and Dr. Krivitsky specialize in the diagnosis and treatment of periodontal disease, and perform procedures to restore health and aesthetics after gum disease.
Periodontal disease, also known as gum disease, occurs when the bacteria from plaque builds up around the teeth and gums causing inflammation of the gum tissue. If left untreated, the bacteria will continue to spread below the gum line, destroying the gum tissue and causing it to separate from the teeth, creating periodontal pockets. Eventually, the bacteria will spread to the supporting bone causing bone loss. As the bacteria spreads under the gum line.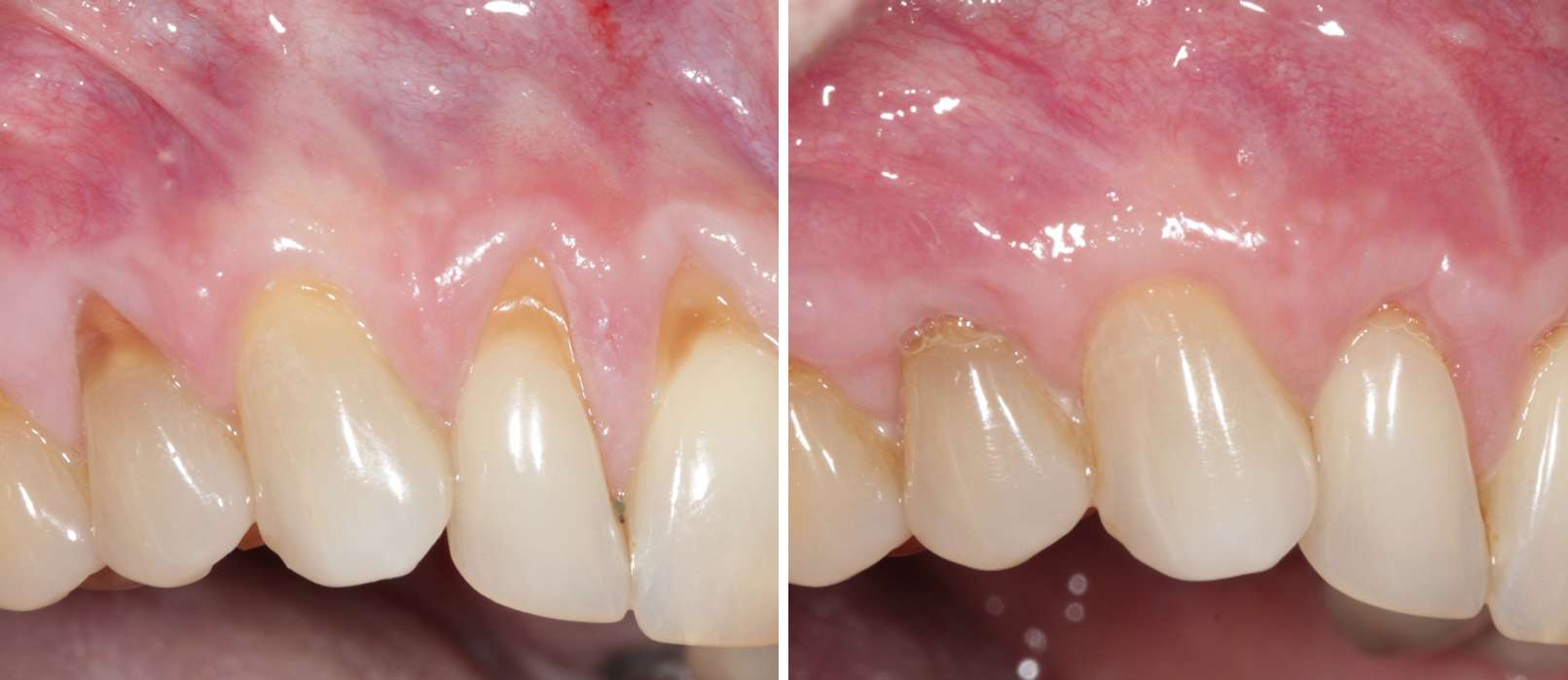 Gum Recession Treatment in Crestwood Hills
Gum disease is the most common cause of gum recession. Periodontal disease damages the gum tissue, causing it to recede, and leaving the tooth roots exposed. When the tooth roots become exposed, patients are at a higher risk of developing decay, and experience sensitivity to hot and cold foods. Additionally, extra long teeth can cause an overall aged and unhealthy looking smile, causing many patients to feel insecure about their smiles. 
Gum graft treatment Crestwood Hills is a common way to restore an even gumline and treat gum recession. Soft tissue grafting typically involves taking tissue from a different part of the patient's mouth, usually the roof of the mouth, and grafting it to the gums to cover the exposed tooth roots. This method is more invasive and results in extended healing times and a more painful recovery. 
Thanks to advanced technology, Dr. Aalam and Dr. Krivitsky are the only dual-board certified periodontists near Crestwood Hills who are offering their patients the Rejuvagum Lift. This revolutionary gum recession treatment offers patients a holistic, less invasive and more comfortable alternative to gum grafting. Instead of using a tissue graft, your Crestwood Heights periodontist creates PRF from a sample of the patient's blood, to create a healing matrix that is inserted into the gums to regenerate new tissue. 
The Rejuvagum Lift is a graftless treatment that regenerates lost tissue using Platelet Rich Fibrin. A sample of the patient's blood is drawn and spun in a centrifuge to extract regenerative growth factors from the blood such as platelet-derived growth factors (PDGF) to naturally help restore tissue, and increase the body's healing abilities. The PRF is inserted into the gums above the recession to regenerate the lost tissue, increase healing abilities, eliminate the risk of tooth decay and restore a healthy, even gumline!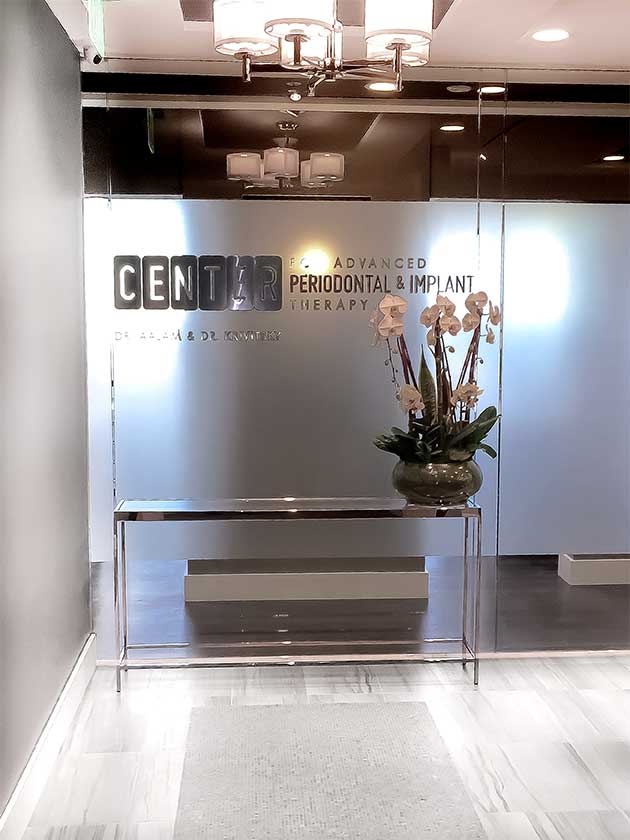 VISIT THE CENTER FOR ADVANCED PERIODONTAL & IMPLANT THERAPY
Virtual Brentwood Office Tour
GET TO KNOW OUR LA OFFICE!
GENTLE, AFFORDABLE & PAINLESS PERIODONTAL CARE in Los Angeles