Meet Dr. Aalam and Dr. Krivitsky
At the CENTER for Advanced Periodontal and Implant Therapy, Dr. Aalam and Dr. Krivitisky are the dual-board certified team who proudly serve the Ocean Park neighborhood, and surrounding areas, including Brentwood, Westwood, Santa Monica, and the Pacific Palisades. As a periodontal practice near Ocean Park, Los Angeles, Dr. Aalam and Dr. Krivitsky are committed to providing their patients with the most comprehensive periodontal treatment in Ocean Park, to ensure their patients receive the life-changing results they deserve. Each patient arrives at our Ocean Park periodontal practice with a unique set of needs, and our dual-board certified periodontists thoroughly diagnose each patient to create a customized treatment plan best suited for their needs and budget. If you experience issues with your gums and teeth, or are looking for ways to improve your smile in Ocean Park, contact us today to schedule your periodontal consultation.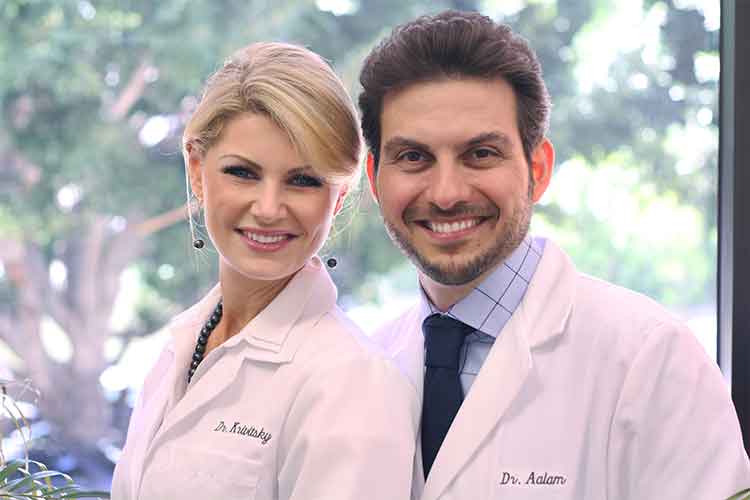 Many believe that a perfect smile begins with picture-perfect, straight, white teeth.
However, a healthy, beautiful smile actually begins with healthy gums. Gum tissue should be light pink in color, and fit tightly around each tooth with only 1-3 mm of space. Nearly 65 million Americans suffer from some form of periodontal disease, also known as gum disease each year, which infects the gum tissue, and can cause a number of side effects. Gum disease begins as gingivitis, also known as an inflammation of the gum tissue, caused by the bacteria found in plaque. In the case of mild gingivitis, gums will begin to swell and become red, tender and painful, and will often bleed when brushing or flossing. If left untreated, periodontal disease can spread beyond the gum line, causing gum tissue to pull away from the tooth, creating periodontal pockets, damaging the gum tissue, causing recession, and can eventually spread to the underlying bone, causing bone loss and potentially causing the teeth to fall out.
Gum recession occurs when the gum tissue wears away, usually as a result of periodontal disease, causing the teeth to appear longer, putting patients' oral health at risk, and affecting patients' smiles when smiling. It also causes pain, discomfort and sensitivity when eating hot and cold foods, and when brushing and flossing, and puts patients at risk of developing tooth decay.
There are traditional and holistic approaches to treating gum recession, and an Ocean Park periodontist can help determine the best treatment plan for you. A periodontist in Ocean Park is a dental specialist who is an expert in the prevention, diagnosis and treatment of periodontal disease, and in dental implant surgery. As a result of their education and extensive training, a periodontist in Ocean Park has the skill to perform more complex treatments related to the gums, teeth and supporting structures, which a dentist cannot.
With the help of advanced technology, Dr. Aalam and Dr. Krivitsky are proud to offer patients an alternative to traditional gum grafting. Typically, gum recession is treated with a soft tissue graft, that uses a sample of tissue taken from a different part of the patient's mouth, which is then grafted to the gums to cover the exposed roots. Platelet Rich Fibrin is developed from a sample of a patient's blood and is rich in regenerative growth factors, platelets, and white blood cells. The healing matrix is inserted into the gums near the recession site and is used to regenerate lost gum tissue in patients who experience gum recession. An ocean park periodontist can work with you to decide if this is the right gum recession treatment in ocean park for you.
Patients can also opt for a gum grafting treatment in Ocean Park to treat gum recession and restore a healthy, even gum line. A gum graft utilizes a sample of tissue taken from a different part of the patient's mouth, most commonly the roof of the mouth, to cover the exposed roots. Under IV sedation, an Ocean Park periodontist removes tissue from the patient's mouth, and prepares the sample to be grafted to the gum to create an even gum line, and protect the tooth roots. When patients experience gum recession, the exposed underlying bone puts them at a greater risk for developing disease and decay, in addition to causing sensitivity to hot and cold foods. By creating a healthy, even gum line, we can also restore patients' ability to eat with comfort and ease.
Gum recession affects the smile, and creates an aged appearance, causing many patients to suffer from low self-esteem and self-confidence because they are displeased with their smile. If you experience gum recession, your teeth appear extra long and you are unable to smile with confidence, an Ocean Park periodontist can rejuvenate your smile and oral health, and restore your confidence with a gum recession treatment in Ocean Park.
For more information about these and other procedures offered at the CENTER, contact Dr. Aalam or Dr. Krivitsky for an appointment. View our treatments:
WHAT OUR OCEAN PARK PATIENTS ARE SAYING…
Dr. Aalam and Dr. Krivitsky's patients rave about their periodontal experiences
HIGHLY recommend this office. It was worth every penny. I am amazed what these two beautiful intelligent periodontists could do with my own platelets but it worked and I am so happy.
Dr. Krivitsky and Dr. Aalam are extremely warm, professional, and wonderful to work with. They are wholeheartedly dedicated to their practice, always staying on top of the latest techniques and equipment.
I can't rave enough about how kind and professional these two doctors are. It's rare to have a service where the provider genuinely cares about your well being! Highly recommended!!!!!
Last Friday, I was in the chair for some serious grafting – gum surgery.  Dr. Alina, Dr. Aalam, and the office staff could not have been more attentive, compassionate & professional. They take a personal interest in the well being of the patients.
Before And After Photos
Unhappy with your Gummy smile? View more "gummy" smile before-and-after photos from patients of Dr. Aalam and Dr. Krivitsky online.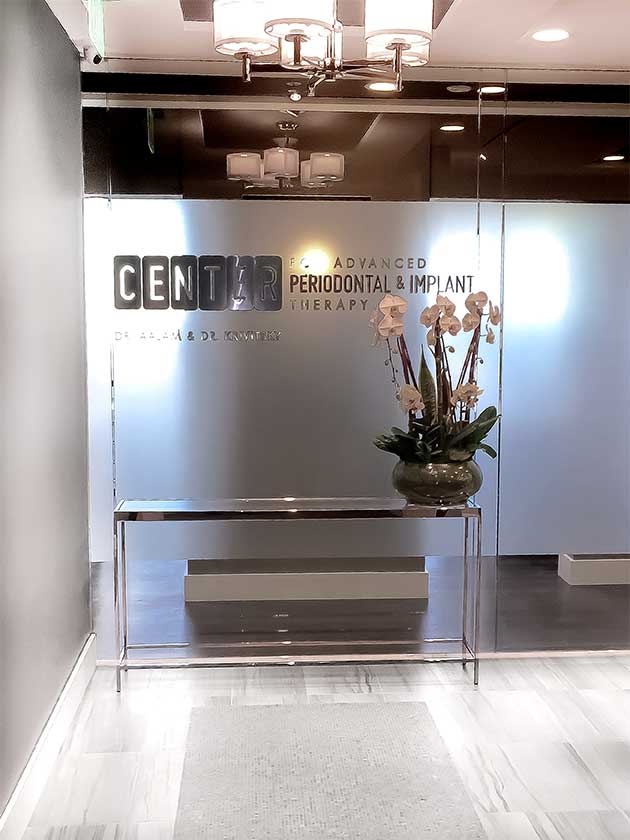 VISIT THE CENTER FOR ADVANCED PERIODONTAL & IMPLANT THERAPY
Browse our site to learn more about our procedures and see more 
before and after dental images
. You can also call us at (310) 826-8242 to schedule a consultation with Dr. Aalam or Dr. Krivitsky.
Virtual Brentwood Office Tour
GET TO KNOW OUR LA OFFICE!
GENTLE, AFFORDABLE & PAINLESS PERIODONTAL CARE in Los Angeles