Wilshire Montana

Periodontists
Meet Dr. Aalam and Dr. Krivitsky
Dental implants near Wilshire Montana are an excellent choice for patients seeking to permanently replace lost, damaged, or extracted teeth. The dental implant procedure requires the skill and expertise of a periodontist, and should only be performed by a board-certified periodontal expert, who has been trained in dental implantology and understands the connection between the teeth, gums and supporting structures. 
Dental implants are titanium or zirconia posts that are permanently placed into the jaw to replace the missing tooth roots. These implants fused to the jaw bone to become a permanent part of the mouth, and serve as the foundation to which a permanent restoration, also known as an artificial tooth, is attached to. 
What is the Dental Implant Process like?
Each patient has a unique set of needs and it is imperative that a periodontist near Wilshire Montana assesses your case to create the best treatment plan for you. When patients come in with tooth or bone loss, it is important to understand what has caused the teeth to fall out, why there is bone loss, and whether there are other conditions that may also require treatment, such as gum grafting or scaling and root planing. 
Because dental implants are anchored into the jaw bone, the patient must possess enough bone density to support the implants. Many patients who experience bone loss are simply told they are not candidates for dental implants near Wilshire Montana, however, that is not the case! Even if a patient suffers from bone loss, they can still restore their smile with permanent dental implants near Wilshire Montana.  
In the case of bone loss, a periodontist near Wilshire Montana can perform a bone graft to strengthen the supporting bone and restore the adequate density needed to securely support permanent dental implants. A bone graft is done by using a sample of bone tissue, which can be found from different sources, including a patients' own bone, cadaver bone, or bone taken from an animal source. For those who prefer not to use actual bone due to religious or personal preferences, there is also a holistic alternative to bone grafting that utilizes advanced technology to convert a patient's extracted tooth into a bone grafting material. This option is an effective, holistic alternative to traditional bone grafting. Depending on the patient's case, a bone graft can be done before the implants are placed, and left to heal for a period of time before returning for the dental implants, or can be done at the time of dental implant surgery near Wilshire Montana. 
Once the implants are securely and accurately placed in the mouth, a scan of the patient's mouth is complete to create a temporary restoration, also known as a temporary artificial tooth, that will be delivered within 24 hours, and will remain in place until the implants heal, and the patient can return for their permanent restoration. Once the gum and bone completely heal, and the dental implants fuse to the bone to become a permanent part of the patient's mouth, a process that usually takes between 3-6 months, the patient will return to receive their permanent restorations. These restorations are color-matched to blend seamlessly with the patient's smile and restore the full, permanent function of the teeth. 
If you are missing teeth, dental implants near Wilshire Montana may be the right solution for you. Contact your Wilshire Montana periodontists to schedule your periodontal consultation.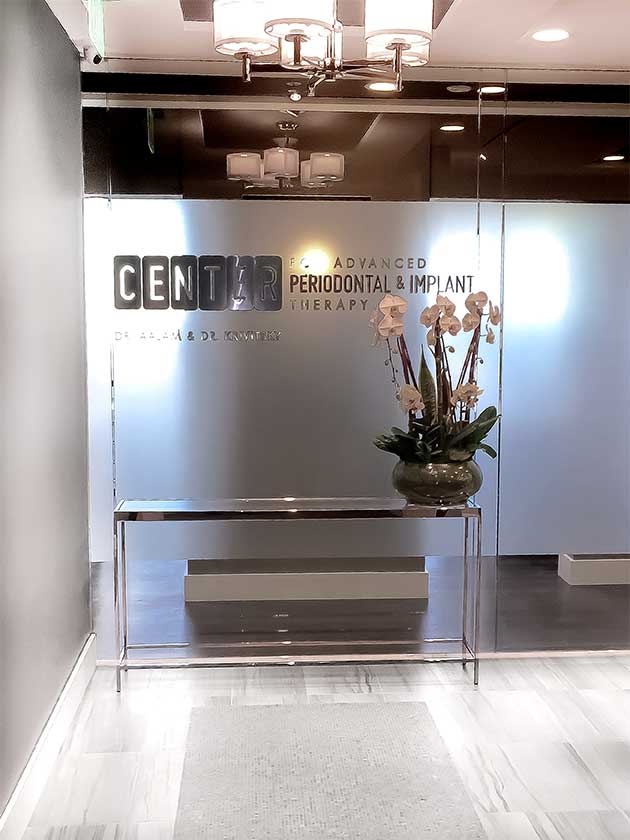 VISIT THE CENTER FOR ADVANCED PERIODONTAL & IMPLANT THERAPY
Virtual Brentwood Office Tour
GET TO KNOW OUR LA OFFICE!
GENTLE, AFFORDABLE & PAINLESS PERIODONTAL CARE in Los Angeles