The Truth About Cheap Dental Implants
Have you ever seen an advertisement for low price dental implants in Los Angeles? A free consultation is extremely common, but when the implants are listed at such a low price, there may be more to consider than meets the eye.
Dental implant surgery is one of the best investments you can make in restoring your smile if you have missing teeth. After all, implants are almost identical to having natural teeth all over again.
But what a lot of budget dental offices don't disclose is why their implants are so cheap. How do they offer significantly affordable dental implants when other dental offices in the area charge more? What is it that impacts dental implant cost so much, that the pricing differs by hundreds or even thousands of dollars? So, what's the truth about cheap dental implants? In this post, we'll take a look at the pros and cons of affordable dental implants and help you decide if they're right for you.
Is it really worth going for the cheapest option?
Most people considering dental implants will book an initial consultation with a dental professional in their area. The dentist will then evaluate their smile, discuss long-term and immediate goals, and determine the budget the patient has in mind for their smile reconstruction. At the time of the consultation, the dentist will create a care plan that outlines the total cost of the smile reconstruction process. 
At this point, you know how much it will cost to get dental implants. However, some patients prefer to schedule a free consultation with more than one provider to compare the costs between each office. If one dentist is significantly cheaper than the other, it doesn't hurt to get another opinion as well, especially because of the long-term implications of replacing missing teeth.
Dangers of Cheap Dental Implants
If one dental office seems incredibly cheap when it comes to their dental implant cost, remember, "buyer beware." There could be hidden fees that aren't included in the actual surgical procedure, such as the price of sedation during your appointment or if you need a tooth extraction before the dental implants can be installed. Each of these various steps will add an extra cost onto the overall treatment plan, impacting your total amount out of pocket.
And then there are the lab fees to consider. Which type of artificial teeth do you plan to have placed on top of your dental implants? A crown? Porcelain bridge? All-on-4? Overdenture? The restoration on top of implants significantly impacts the total price you'll pay. If one is extremely cheap, it might not be as good of quality or as attractive as you're hoping for. Or maybe, it's a temporary appliance not meant for lifelong function. 
Dr. Aalam and Dr. Krivitsky also warn against choosing cheap off-market dental implants made by unknown inferior manufacturers. These restorations often lack the long-term compatibility that high-quality implant designs do. If one breaks or the abutment needs to be changed out, your dentist may be unable to find a replacement part that is compatible with the cheap implant your dentist bought online. Instead, it's better to go with a reputable implant design widely used, so you know no matter which dentist you see in the future will be capable of maintaining in the decades to come. 
We see many patients in our practice who come to us to fix or repair broken or failed implants placed by other dentists incorrectly, where cheap implant materials were used or when bacteria accumulates around the implant and causes peri-implant disease, which can cause complete loss of the implant.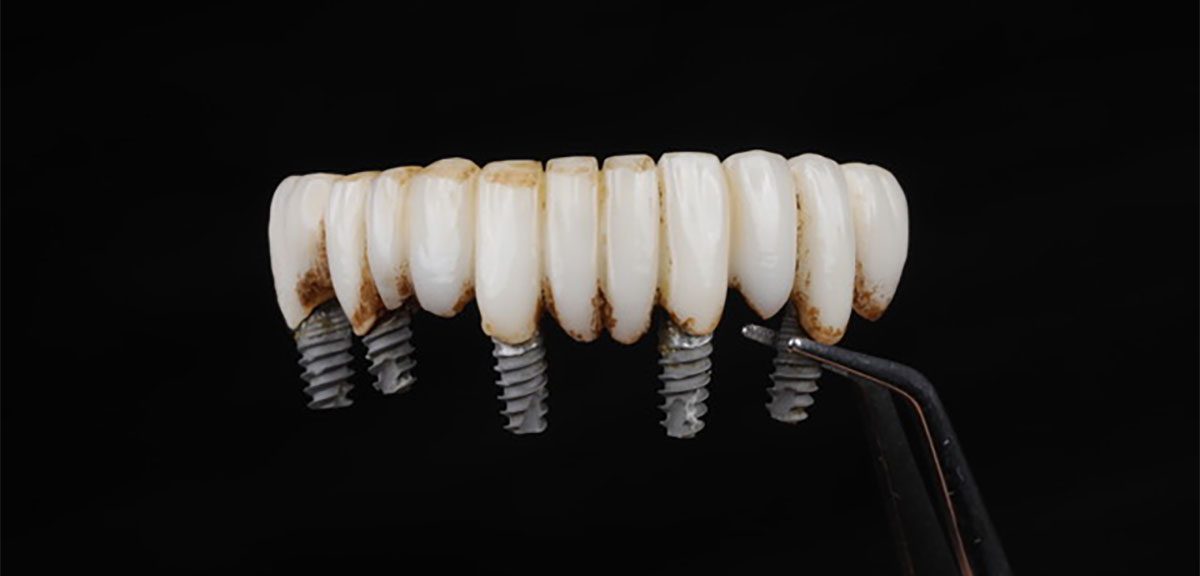 Broken implant removed from a patient before replacing
Why You Should Address Underlying Issues First
Quick, fast, cheap implants sound too good to be true. And they often are. All too many times, tooth loss is because of an underlying condition like bone loss or periodontal infections. If you have low-cost implants installed, they will be at an elevated risk of failure due to the lack of structural support around them. 
Dr. Aalam and Dr. Krivitsky will always assess your overall wellness and complete oral health as part of planning any type of tooth replacement. By understanding what contributed to your missing tooth and addressing those conditions first, we can help avoid complications with your dental implant procedure.
For example, if you needed multiple teeth extracted because of periodontal infection and immediately had implant surgery, the bacteria would likely cause your implants to fail. The infection needs to be eliminated from your mouth beforehand. Our periodontist would also want to ensure there is healthy bone in those areas (offering bone grafting if needed) well before the implant surgery is scheduled. If you rush into having very low price implants installed, they are potentially set up for failure (which can cost you more money over the grand scheme of things.)
Save Money by Working with a Specialist
When dental implant cost dictates which dentists you work with, you may find that you wind up in a dental office using unconventional equipment, unsupported dental implant designs, or that are less skilled in surgical implant placement. All in all, creating the perfect storm for implant failure, frustration, and additional costs related to your smile's future.
Partnering with a dental implant expert near you allows you to save money on these dental services because you know you'll receive the best treatment option and long-term results. When your implant procedure is more predictable and overseen by a specialist, you don't have to worry about additional costs or retreatments because of failed implant surgery or traveling outside the country to fix your implant if something goes wrong.
Dr. Aalam and Dr. Krivitsky are experts in dental implant procedures, placing hundreds of implants in Los Angeles each year. As specialists in implant dentistry, we can ensure cost-effective implant surgery because of the high level of detail going into your treatment plan.
Our experts use 3D CT scan imaging to map out a surgical guide or placement prior to the implant surgery, predicting the exact location of each implant. That way, we can maximize the healthy anatomy that is already there, limiting the need for a bone graft, sinus lift, or unnecessary extractions. 
Dental Implants in Los Angeles
At the Center for Advanced Periodontal & Implant Therapy, we address dental implant therapy (and dental implant cost) on an individual basis. No one treatment plan is right for everyone. Dr. Aalam and Dr. Krivitsky work with each patient to address their dental health concerns individually. Contact our Los Angeles dental implant office today to reserve a no-obligation consultation.